By
Our night at the Basecamp Hotel in South Lake Tahoe took place just before a massive snowstorm was due to blow in. Skiers, boarders, the hotel staff and even the lake itself seemed to be holding its breath for the white gold to come down from the sky. This 50 room former motor lodge has been crafted into a warm and cozy place to wait for — and hang out in during – a winter snowstorm.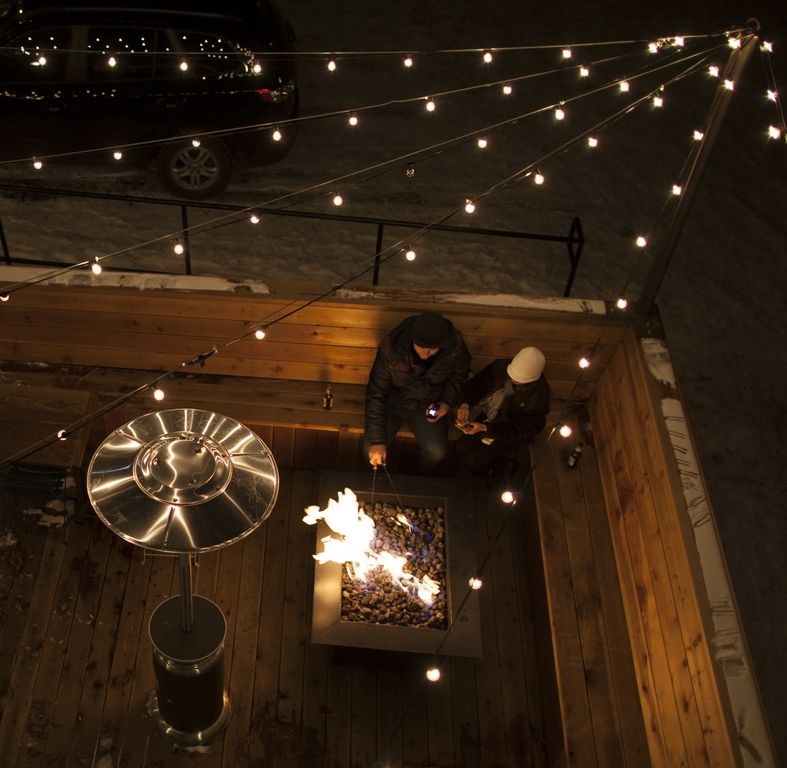 The first thing you notice as you walk into the cozy lobby, lounge and bar area is a slight cinnamon smell that comes from the reclaimed wood that's been used to decorate the hotel. Other decorative details lean toward rustic chic: classic water canteens, kerosene lamps, well-read paperbacks, horseshoes, local art and fun graffiti on the walls including "Get Lost" written above the front door.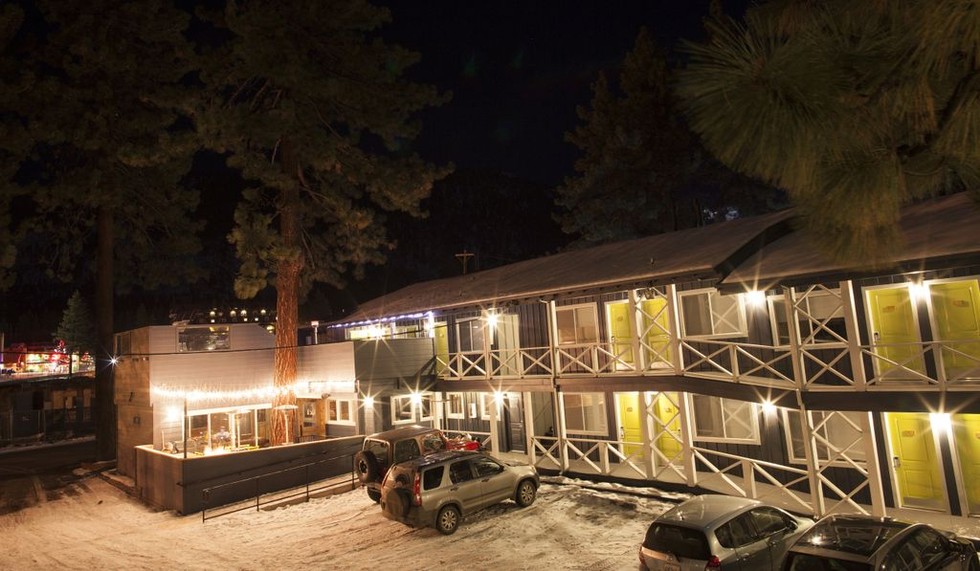 However, the Basecamp hotel is far from hipster. Guests in the lobby included several cross-country skiing couples from the Bay Area on their way to Kirkwood, and a family with small children from Great Britain. The staff was friendly, helpful and energetic. This hotel used to be a party-central space for boarders complete with a six-pack of PBR handed over at check-in. Now the hotel is a much more friendly to all types of visitors to the Tahoe area and includes theme and group rooms.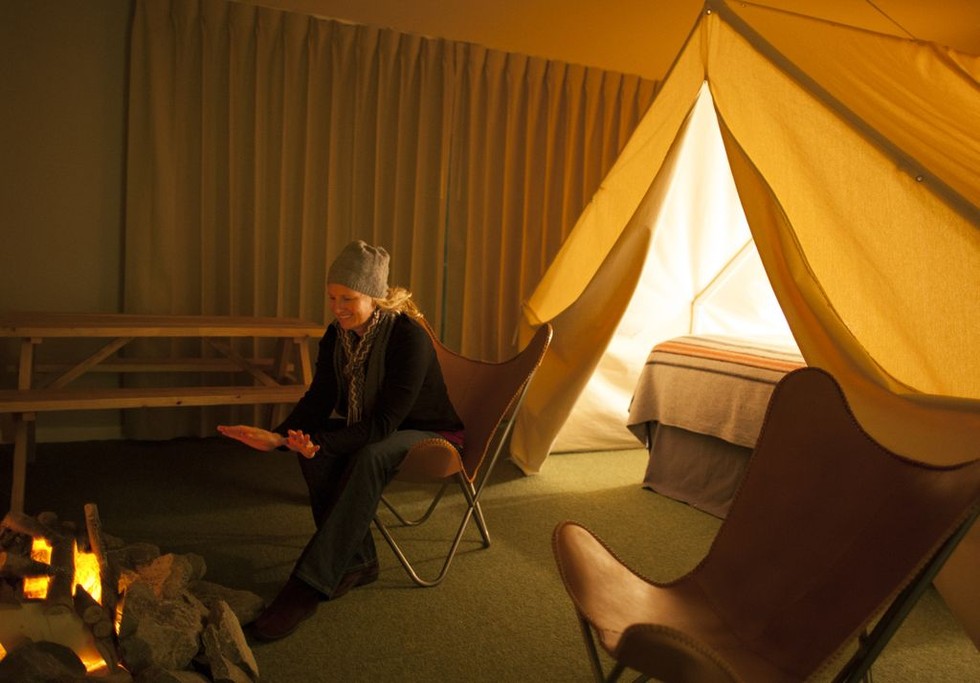 The most talked about room at the Basecamp is the Great Indoors Room which has carpet that looks like grass, retro wallpaper reminiscent of a Tahoe forest in the summer, a faux campfire, and a King size bed with a comforter and a wool blanket sheltered by a canvas tent. When the overhead light — made to look like several flashlights — is turned off, the ceiling glows with stick-on stars. Bedside reading includes a copy of the "Worst-Case Scenario Handbook." The small shower includes a nice soap, shampoo and conditioner and the room, even with its thin walls, was surprisingly quiet. One of my favorite details about the room was a coat rack that used railroad spikes as hooks. Unfortunately, the wifi in our room decided to poop out and we had to use the lobby's.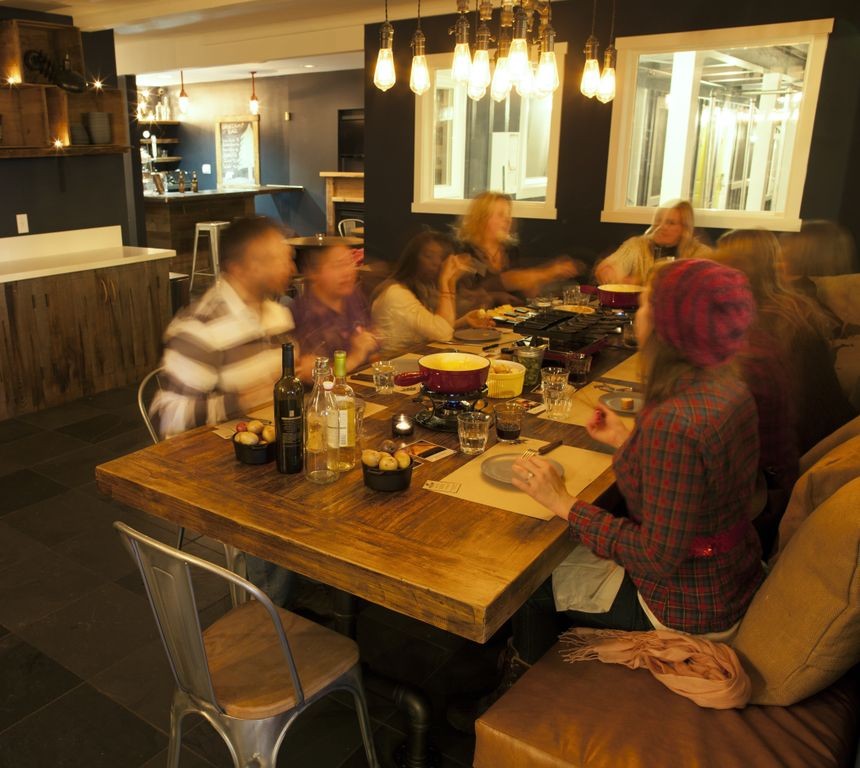 The outdoors is brought inside again with an outdoor deck and gas fire pit where you can enjoy nightly s'mores. The outdoor deck is built around an elegant sugar pine that towers above the hotel and over an upper deck with a spa, another gas fire pit and a seating area reminiscent of a Finnish sauna. On Wednesday, Friday and Saturday nights, Basecamp hosts a family style dinner of fondue or winter stew, and after dinner, you can retreat to the small bar which serves reasonably priced beer and wine. A continental breakfast is included with the room and features oatmeal in cute paper bags, bagels and danishes from a local bakery, coffee and tea and juice. On our cold morning, a little Soul music was piped into the lobby.

It's too bad that this diamond-in-the-rough hotel has to battle against its unfortunate location in the shadows of the South Shore casinos and next to an abandoned building site. The pros of being within walking distance to many restaurants and the Heavenly ski resort outweighs the negative, and the other crappy hotels in the area really need to emulate what the Basecamp is doing in this popular tourist area.
Photos by Harry Thomas
DON'T MISS A BAY AREA BEAT! SUBSCRIBE TO OUR NEWSLETTER.