In my opinion, Manhattan should be done in a mad three-night journey. It allows you to go for broke without actually succeeding. Instead of staying put though, reserve at two of the city's newest, swankiest hotels. You'll get a taste of different sides of the city (and save on cab fares). The Surrey, on a posh block of the Upper East Side, is your one-night splurge. Originally a residential hotel built in the '20s, its lobby now houses Chuck Close's painting of Kate Moss. Lauren Rottet's black and white décor is an elegant mix of modern and traditional design, a relief in the era of Philippe Starck.
In the morning, head to nearby quaint Italian cafe Via Quadronno for a cappuccino. There, plan your attack, whether it's a day of museums (the Whitney is around the corner) or window-shopping on Madison Avenue. Sure, there's the popular High Line, but nothing is more beautiful than a freshly snow-covered Central Park (if you're so lucky). Take a walk, stopping at Le Pain Quotidien in the Mineral Springs Pavilion for lunch, followed by ice skating at Wollman Rink. Come evening, get dressed to the nines and reserve tickets to see clarinetist (oh, and filmmaker) Woody Allen and the Eddy Davis New Orleans Jazz Band at the swanky Carlyle hotel, just a block away (Monday nights only).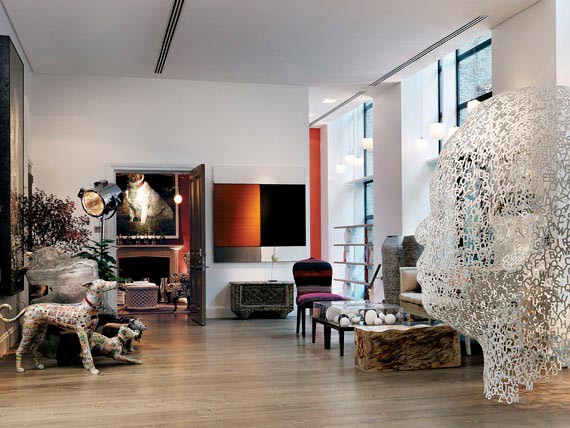 The quirky art at The Crosby Street Hotel
For your next two nights, head downtown to the fantastic Crosby Street Hotel, ideally located at the edge of Soho. Big, whimsical, and filled with light, it's got color to spare and rooms with floor-to-ceiling windows. At night, $25 gets you a cocktail and a movie in the hotel's intimate theater. A bit more gets you tickets to Neil Labute's new off-Broadway play, The Break of Noon, starring David Duchovny and Amanda Peet.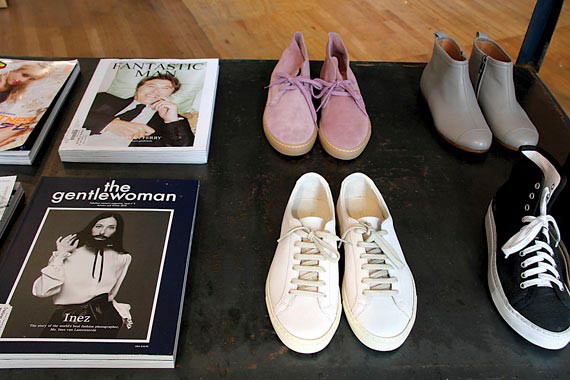 Shopping at Creatures of Comfort
Holiday shopping is easy in New York. Make a trip to Uniqlo for inexpensive cashmere sweaters for all. Fashionistas buzz about Opening Ceremony, which recently expanded, but Creatures of Comfort, a more accessible gallery-cum-boutique, offers Arielle de Pinto and Zero + Maria Cornejo. Further down in the LES, stop into the beautiful, Tokyo-esque Dear: Rivington for both men's and women's clothes. For adorable stocking stuffers, drop into Papabubble, where you can watch hard candy being made, and snap up some glass jars of the finished product.
Eating is its own agenda: Breakfast merits a stop at Peels, where you can build your own biscuit sandwich. Hop in a cab to the Flatiron District for a spin through Mario Batali's behemoth new food hall, Eataly, where you can pick up hard-to-find Italian ingredients. Skip the crowds there and eat lunch at the modest Keste Pizzeria in the West Village (a favorite of SF chef Craig Stoll). A great dinner can be had at former A16 co-owner Christophe Hille's cozy Northern Spy Food Co.
By this point, you'll be wringing your hands over the bars and boutiques and more that you've missed. But as the Times restaurant critic Sam Sifton wrote, "In New York City, there is always somewhere else." You'll just have to go back.