On Sunday, more than 40 of the Bay Area's top chefs will be showcasing summer's bounty at CUESA's Summer Celebration. Shopping at the Ferry Plaza Farmers Market this week with 25 Lusk's Executive Chef, Matthew Dolan, who will be a participant this year, it was hard not to get excited about the summer's bounty. His restaurant's menu is a reflection of his energy and enthusiasm for seasonality. Much of the menu changes weekly, and sometimes daily, to reflect what his favorite small farms are harvesting. "Seasonal items change so regularly that by next week we'll probably have 10 different things to incorporate into our rotation," Dolan told me.

Since 25 Lusk opened in 2010, it has been lauded for how beautifully the space— an old smokehouse and meatpacking building constructed in 1917—was re-imagined by local architect Cass Calder Smith. Dolan's menu has also received a buzz for its imaginative and playful reinterpretations of American favorites, such as prawn corndogs with Togarashi remoulade or chicken-fried quail.

25 Lusk is now in the last phases of becoming a certified green business, and their commitment to sustainability carries over into their ingredients. Dolan sources lamb from a small ranch in Sonoma and veggies and fruits from local farms like County Line Harvest, Knoll Farms and Free Spirit Farm. He also follows the Environmental Working Group's "Dirty Dozen" and "Clean Fifteen" guides when making his other sourcing choices.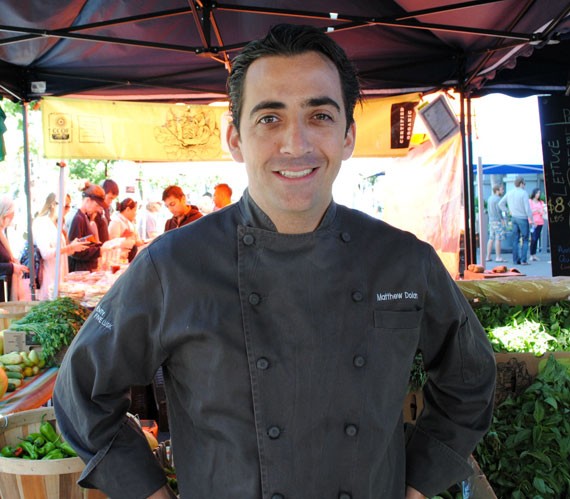 His favorite early-summer farmers market picks include corn, tomatoes and
purslane. "Purslane is so simple and fresh on its own that you don't have to do too much other than let that beautiful, citrusy flavor come through," he said. "Less is more when you are working with truly good ingredients."

This Sunday, July 15, Dolan will be at CUESA's 2nd annual Summer Celebration at the Ferry Building, serving a savory twist on a classic dessert. "We're pairing up with Far West Fungi for a truffle mushroom cheesecake using their porcini, chanterelle and shiitake mushrooms," he told me. Get your tickets for the Summer Celebration here.