By
Whether you're planning festive time with friends or family next week, or just hunkering down for a quiet weekend -- I'm guessing you might also be dreaming of a well-stocked fridge. On Thursday, December 23rd, we're putting together an extra special pre-holiday market for just this purpose.
In addition to the usual Thursday line up, we'll be hosting 14 farms and vendors from our Saturday market with a variety of seasonal meats, fruits, and veggies, as well as holiday wreaths and edible gifts. Because shopping is next to impossible on an empty stomach, you might just have to refuel afterward with a steaming bowl of ramen, wood fired pizza, a Zilla dog, or any of the other delicious offerings from the eight restaurant vendors who will be on site that day.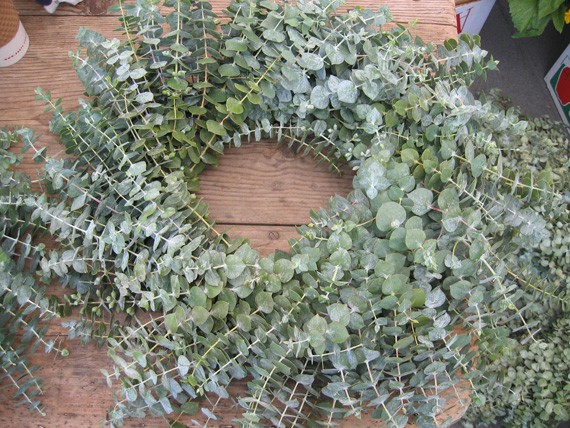 On your way home you can also fill in any last minute gaps in your holiday shopping list with a box of 25 wooden $1 coins that can be used at any of our three weekly markets.
Here's a peek at next Thursday's market line up:

Farmers and Ranchers
Achadinha Cheese Co. – fresh and aged goat cheese and goat sausage
Blossom Bluff – citrus and dried fruit
Catalan Family Farm – vegetables
Dirty Girl Produce – vegetables
Eatwell Farms – herbs, pastured eggs, sweet potatoes
Everything Under the Sun – dried fruit and vegetables, greens
Four Sisters – kiwi, baby braising greens
G.L. Alfieri Farms – dried fruit, nuts and candies
Heirloom Organics – vegetables
Hog Island Oyster Co. – oysters
Marshall Honey – honey, honey comb, gift items
Mountain Ranch Organically Grown – pastured chicken, chicken stock
Thomas Family Farms – holiday wreaths, heirloom winter squash and potatoes
Tory Farms – citrus and pomegranates

Artisans, Purveyors and Restaurants
4505 Meats – burgers, sausages, chicharrones and more
Blue Bottle Coffee – whole beans, coffee, espresso drinks
Captain Mike's Holy Smoke – smoked fish, soups and sandwiches
Downtown Bakery – bread, cookies, and pastry items
Farmhouse Culture - Sauerkraut made with local vegetables
Fatted Calf - charcuterie
Hapa Ramen – Pork, Chicken and Veggie Ramen
Hodo Soy Beanery – Fresh tofu, soy milk, soy noodles
Les Éléments Pâtisserie – cookies, cupcakes and bûche de Noël (available by pre-order only)
Marin Gourmet– Vegetable spreads, marinade, dips, and crackers
Namu – Korean tacos, Okonomiyaki, Kim chee fried rice
Pizza Politana – wood fired pizzas
Primavera Cocina – Mexican dishes and take home tamales and salsas
Rancho Gordo – Dried heirloom beans, tortillas, spices
Roli Roti – Rotisserie chickens and porchetta sandwiches
Scream Sorbet – seasonal sorbets, pre-pack pints
Tacolicious – tacos, chips, housemade agua frescas and salsas
DON'T MISS A BAY AREA BEAT! SUBSCRIBE TO OUR NEWSLETTER.