On any given day, the Ferry Plaza Farmers Market is filled with many fabulous and talented chefs from around the Bay Area. But none know the market quite as well as our very own market chef, Sarah Henkin. She scours the market each week to find inspiration for the chefs who participate in our Saturday cooking demos and she also shops for her own weekly Food Wise Booth at the Tuesday market. At the booth, Chef Sarah can be found handing out samples of a seasonal recipe prepared that morning, and answering questions about selecting and preparing seasonal ingredients in general.

Hailing originally from Southern California where the climate is mild and seasonal changes are less obvious, artichokes became the first vegetable that represented the transition from winter to spring for Sarah. Sarah likes artichokes prepared in many ways including fried, roasted, steamed and even raw. For raw preparations she says she prefers to use baby artichokes like the ones currently available from Iacopi Farms.

"You'll want to trim them well, cutting off the top portion and removing the thick outer leaves," she says, "when you get to the tender light green inner leaves, thinly slice the artichokes on a mandolin or with a sharp knife into a bowl of lemon water to prevent discoloration." The artichoke slices can then be tossed with thin slices of fennel, sunchokes, spring onions and a mild salad green. Sarah likes to use puntarella or spinach and dress it all with a lemon and anchovy vinaigrette. She also suggests adding toasted almond slivers or walnuts as their flavors work well with the earthiness of raw artichokes.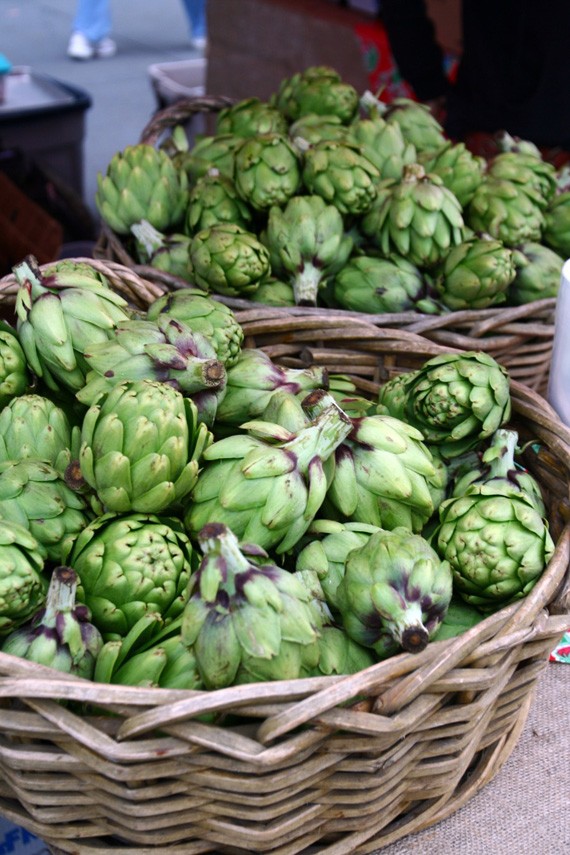 Stop by next Tuesday to find out more ways to prepare artichokes, taste samples of Sarah's weekly recipe and get a little inspiration of your own. The Food Wise Booth is open from 12:30 until the samples run out.