It's become a tradition for us to mark the return of tomato season with a tomato-centric recipe and cooking demonstration from local chef Joanne Weir. Joanne was here in the CUESA kitchen last Saturday to teach us a simple and delicious dish using the first field grown tomatoes of the season for the third year in a row. This time around she demonstrated her recipe for a BLT salad and shared stories with us about the origin of her love of tomatoes.

Chef Weir told the crowd that she was only six years old when her mother taught her to make the perfect tomato sandwich. "Whenever you work with tomatoes," Joanne's mother told her, "you need to sprinkle them with a little salt to help bring out their sweetness and acidity,"  It's a fact she says she has never forgotten. A few years ago Joanne even wrote an entire cookbook about tomatoes called You Say Tomato which she dedicated to her mother.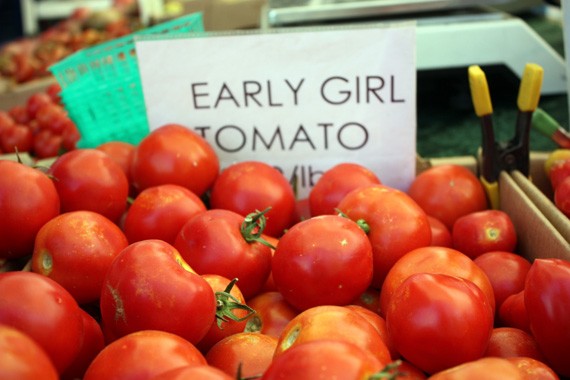 This year's tomato season has been off to slow start; after a cold, wet, spring many farms are seeing their crops delayed.  This month, however, a few of our favorite varieties have begun popping up around the market. This week Everything Under the Sun Farm had three kinds of cherry tomatoes on display alongside the first of their Early Girls. Balakian Farms is just starting to harvest some of the many varieties of heirloom tomatoes they grow in Reedley. In the coming weeks, we'll see more of these summer favorites at Peach Farm, Lucero Organic Farms and Chue's Farm. Farmer Joe Schirmer of Dirty Girl Produce told me this week that while he was hoping for a July crop it's looking like it'll be closer to August before he'll have his famous dry-farmed Early Girls for sale. Towards the end of August we should also see tomatoes from Allstar Organics, the Marin-based farm that typically has the latest harvest of the season.

Lunch visitors will also be enjoying summer tomatoes every Thursday starting at the end of July when Taste Catering returns for six weeks with a menu featuring a special variety of tomatoes they've given their namesake—the Taste tomato. The Taste team is putting the finishing touches on their market menu and hope to include on it examples of the various ways tomatoes are enjoyed around the globe.