It's hard to pick a favorite fruit or vegetable at the Ferry Plaza Farmers Market, particularly at this time of year. The weather is rapidly changing and the transition towards winter has already begun. This week many of my favorites are back and available—though some only for a limited time. Here are the top five not to miss this week:

Arkansas Black apples—"This is not an apple for sissies," says farmer Stan Devoto, who grows them on his farm in Sebastopol. Each year I wait patiently for the triumphant return of these dark red beauties. They're crisp, tart and perfect for baking, juicing for cider, or simply snacking. Stan is hoping to have
them for a least two more weeks and says that starting next week he will also have limited quantities of my other favorite apple—the Black Twig. Find Arkansas Black apples at Devoto Gardens now through Thanksgiving.

Chicories– Bold and bitter in all the right ways, now is the time to snap up these beautiful greens while still on the mild and tender side. Some of my favorite varieties include Pan di Zucchero, Rossa di Verona Treviso and Puntarella. Chicories are as visually stunning as they are versatile and can be prepared raw, braised or grilled. Find Chicories now through the winter at County Line Harvest, Dirty Girl Produce and La Tercera.
Buddha's Hand Citron—These claw-like specimens first start appearing, appropriately, right around Halloween. While often candied, its intense fragrance makes the Buddha's hand lovely for zesting over fresh pasta and salads, or used in a rub for chicken or fish. Find Buddha's Hand now through mid-winter at Hamada Farms and Bernard Ranches.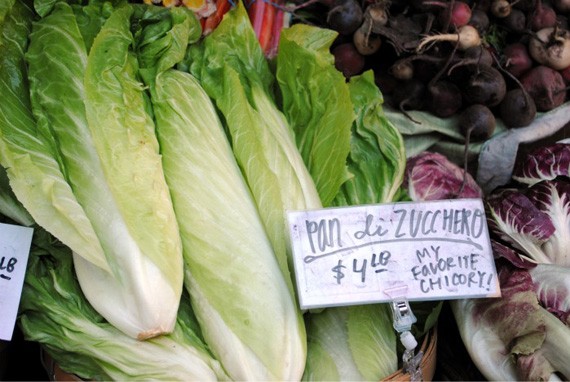 Feiojas—Sometimes called pineapple guava, the feijoa, a native to South America, has a sweet semi tropical and slightly minty flavor. They're wonderful eaten on their own or as an addition to smoothies. Their high pectin content also makes them ideal for use in jams and jellies. Find feijoas at Twin Girls
Farms and Brokaw Nursery.
Black Walnuts–Each year around the start of November, Hamada Farms out of Kingsburg brings a small crop of Black Walnuts. Farmer Clifford Hamada tells me that this year's crop will be especially light due to the loss of one of his two trees during a spate of nasty spring storms. Clifford is expecting to bring only two boxes of Black Walnuts to this week's market and says that this may be the one time we'll see them in 2011. Black walnuts are especially good candied or in ice creams and desserts. So come to the market early, and find them this week only at Hamada Farms.