In the three years since the first Thursday Ferry Plaza Farmers Market, one of our most popular lunchtime options has been Tacolicious. In that short time span, Tacolicious has grown from a pop-up tent to having two brick-and-mortar locations, but they have always remained loyal to their farmers market roots. Each year, they host a guest chef series at the Thursday market, bringing in heavy-hitters from some of the best Bay Area spots to make signature tacos, with all the proceeds donated to CUESA.

This year's guest chef series kicked off with tacos from Juhu Beach Club's Preeti Mistry and Michelin-starred chef Christopher Kostow of Meadowood.  On Thursday, September 20, one of our favorite chefs who shop at the Ferry Plaza Farmers Market, Adam Dulye of Monk's Kettle fame, will be in the house serving ale-braised goat tacos with pickled green tomato relish.

Adam and the Monk's Kettle team just launched their latest venture, The Abbot's Cellar, last month. Housed in an old garage on Valencia Street, the restaurant features an open kitchen centered around a huge stone oven, which Adam will be using to prepare the goat for his tacos this week.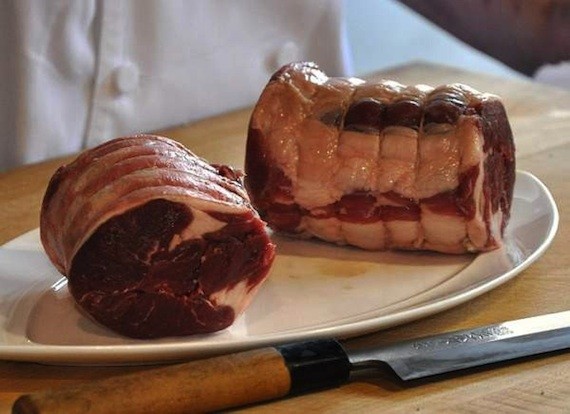 "We've got two whole goats coming into our kitchen, and I'll be braising them for about 10 hours in the stone oven," Adam told me on Saturday as he picked up carrots, fennel fronds and greens for both kitchens at the Heirloom Organic Gardens stand. He says the oven's initial temperature will be around 500ºF, but it will cool overnight to about 200ºF as the goat braises in its own juices and a generous helping of ale. The green tomato relish he will be preparing for the tacos should provide the perfect acidity and brightness to complement the sweetness of the ale braise.

Stop by the Tacolicious stand at the Thursday Ferry Plaza Farmers Market to meet Adam and taste his goat tacos. Proceeds from the taco sales will be used to fund CUESA programs like Schoolyard to Market and the seller scholarship fund, which allows farmers at our market to attend farm conferences, agricultural seminars and more.