In January David Bazirgan took on the role of Executive Chef at Fifth Floor Restaurant. Almost instantly he earned rave reviews for his reinterpretation of the menu at this iconic restaurant. David was recently voted one of the hunkiest chefs in San Francisco, but it's his talent and dedication to his craft  that make him truly one to watch.

Chef Bazirgan was at the market this week picking up flowering mustard from Knoll Farms and Zahidi dates from Flying Disc. Zahidi he says, "have great flavor and more restrained sweetness than the Medjool variety." Also on his list were fresh pecans from the K & J Orchards stand. These would be lightly candied and served with roasted baby beets, pomelo from Hamada Farms and house-aged Humboldt Fog cheese. "We dry out the Humboldt Fog in the wine room until it becomes slightly hard," he told me. "It's the perfect thing to grate over the earthy beets and sweet pecans."

Intrigued by the scallion scapes at Everything Under the Sun, David told me, "I plan to roast those with the spring onions I bought at Heirloom Organics and serve them with a New York steak and creamed nettles."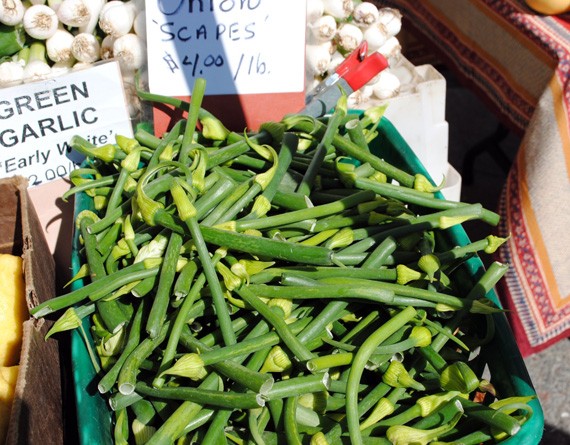 His next stop was at Iacopi Farms, revered this time of year for their sweet English peas. These peas will be the focal point of the dish he plans to demo in our kitchen this week— English pea flan with crispy duck tongue and a carrot foam. Drop by at 11 am to see Chef Bazirgan's well-honed classic cooking techniques first hand.