By
It's not too late to get tickets to next week's farmers market- inspired happy hour at the Ferry Building in CUESA's Dacor teaching kitchen. On Wednesday, September 22nd from 6 pm - 8 pm, 12 bartenders will be mixing up drinks featuring the best of the late summer harvest.
The event is a benefit for both the free educational programming we host each week at the markets and the Barbary Coast Conservancy of the American Cocktail, which was founded recently to preserve the cultural heritage of San Francisco Saloons and the cocktails that made them famous.

The Farmers Market Happy Hour is just one of 8 events organized by the BCCAC during San Francisco Cocktail Week. Tickets include two full-sized cocktails, including an Encanto Pisco, made with sweet vermouth, Benedictine, lemon, soda and figs from Jeff Hollinger of Comstock Saloon.
Other bartenders serving up tastes of their signature market-centric drinks include Brandon Josie of 15 Romolo, Daniel Hyatt of The Alembic and Chase Williamson of the newly re-opened Prospect. In addition to the libations being planned we'll also have snacks to nibble on from the folks at 15 Romolo, Comstock Saloon, 4505 Meats, The Plant Café, and Hog and Rocks, who will be dishing up a house made pimento cheese spread on toasted baguette and topped with country ham.

Late summer and early fall is the perfect time to find cocktail ingredients at the market. I asked local spirit enthusiast Lou Bustamante, who is helping us organize the farmers market happy hour, about the local produce and market goodies he likes to use when concocting a cocktail; here are a few of his picks:

•    Blackberries from Yerena Farms for their color and flavor
•    Figs from Knoll Farms as a tasty edible garnish
•    Jonathan apples from Devoto Gardens for juicing and mixing with whisky or brandy
•    Corn from G & S Corn for making a quick simple syrup
•    Rosemary from Eatwell Farms to impart a bright evergreen freshness to many cocktails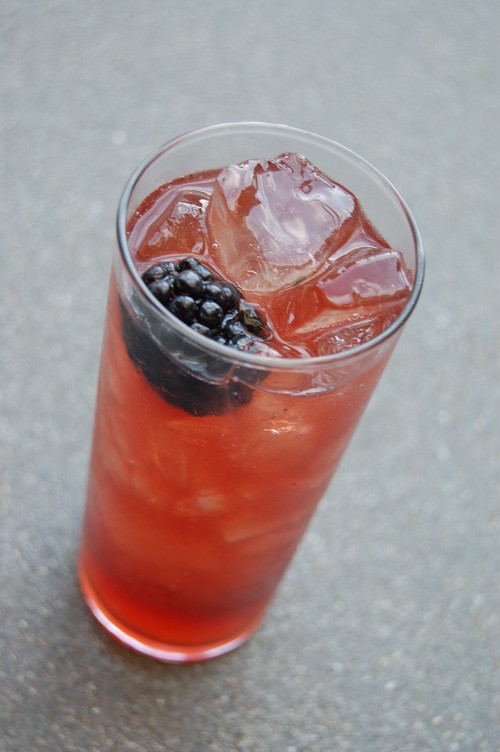 DON'T MISS A BAY AREA BEAT! SUBSCRIBE TO OUR NEWSLETTER.