May is just around the corner and we're already excited about what's in store here at the Ferry Plaza Farmers Market. While we have been knee deep in spring tonic greens, asparagus and strawberries for the past month the first signs of late spring and early summer are already staring to appear.

With the days growing longer, pastured egg production has been ramping up and we'll have even more to enjoy throughout the month. Starting next week we'll welcome two new pastured egg farmers to our weekday markets. Farmers Charlie Sowell and Elizabeth Sorrow of Rolling Oaks Ranch will bring eggs on Tuesdays from the very happy chickens on their farm in Ione, CA. On Thursdays we'll have eggs from new farmer Lynne Hunt of Shady Oak Organic eggs, a small farm located in Turlock. I recently visited both farms and got a chance to help gather eggs, learn more about their operations and meet the "girls" who lay these delicious, sustainably produced eggs.

This week at the market we saw the first early Burlat cherries at Twin Girls Farms, raspberries from Yerena Farms and chive blossoms at County Line Harvest. In the coming weeks we're expecting more cherry varieties, sweet Stockton Red onions, the first blueberries, rhubarb and some early stone fruit varieties too.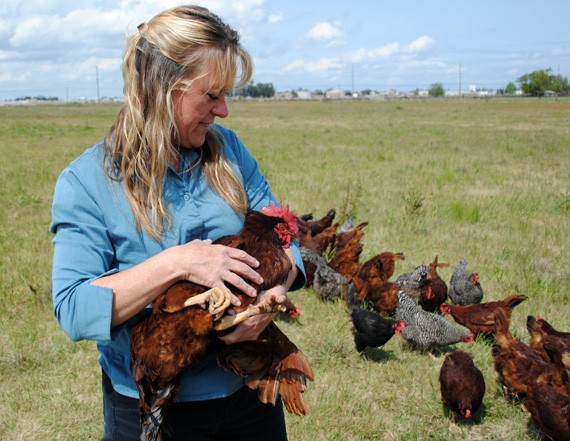 As asparagus season begins to wind down at the end of May, summer squash, basil and early cucumbers will make their debut. Short season favorite the loquat will be available later this month and spring blossoms like the sweet pea flower should be abundant. May is also the time when sugar snap, snow and English pea varieties are at their sweetest and purple-tipped artichokes, fava beans and radishes are too good to pass up.

With all this to look forward to, May might just be one of my favorite months at the farmers market.