As the weather gets colder and temperatures reach near freezing, only the hardiest fruits and vegetables can survive on the winter farm. One of the most cold-tolerant of all plant groups is the Brassica family. These cruciferous crops are plentiful now at the Ferry Plaza markets and are favorites of many of the chefs who shop there.

Cruciferous vegetables are nutritional powerhouses. They are known for having high levels of vitamin A and C and are believed to contain cancer-fighting properties. The sulfur-containing compounds of brassicas give them that eggy aroma when cooked and also make them so nutritious. Brassicas are also one of the larger families of vegetables, with cultivars that include cabbages, kale, mustard greens, tatsoi, kohlrabi, broccoli, and turnips.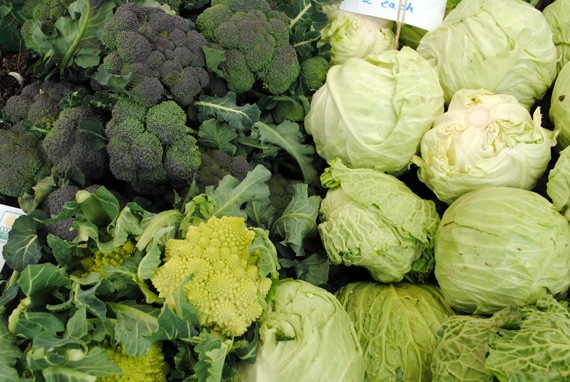 With so many varieties in just one family of vegetables, it's easy to see why chefs gravitate toward cruciferous crops in the winter. This week the folks at Hapa Ramen were adding cauliflower—chef and owner Richie Nakano's favorite cruciferous veggie—to their steaming hot bowls of ramen. Over at Range Restaurant in the Mission, Chef Phil West has been supplying his kitchen with cabbages and other greens. He tells me, "We are using blanched Arrowhead cabbage to garnish short rib-stuffed pasta and using Napa cabbage to make our own kimchee —my sous chef is Korean." They are also using raw baby bok choy and tatsoi in a cured salmon salad with pickled beets and mandarins.

At Nopa, cruciferous vegetables are big with Chef Laurence Jossel. The restaurant's rustic seasonal menu features Brussels sprouts from Iacopi Farms as an accompaniment to rainbow trout and as a topping on flatbread. Nopa's sister restaurant, Nopalito, is also using Iacopi's sprouts in their seasonal quesadilla.

Curious about cruciferous veggies and what to do with them? Visit www.cuesa.org for recipes and more information about these winter stalwarts.