Two weeks ago one of the Ferry Plaza Farmers Market's founding farmers, Nigel Walker of Eatwell Farms, was diagnosed with a cancer of the blood that has primarily attacked his spine. Nigel has always been a farmer with great tenacity and spirit and even a diagnosis of cancer has not slowed him down. In a letter posted on the Eatwell website last week Nigel said, "I have everything to live for and quite frankly have only just got up to speed. I was asked by a doctor about my mental health, asking if my glass was half full or half empty. My reply was overflowing. I consider myself extremely lucky. I love what I do."
---
Eatwell Farms has been bringing their signature lavender bunches and heirloom tomatoes to the Ferry Plaza Farmers Market for more than 15 years. In that time they have continued to enhance and diversify the product mix at their stand adding pastured eggs, wheat and even their own line of naturally fermented pro-biotic soft drinks called  Drinkwell Softers made from herbs and fruits grown on their land in Dixon. In addition to their presence at our market, Eatwell's fabulous produce and eggs are also available through the farm's Community Supported Agriculture subscriptions.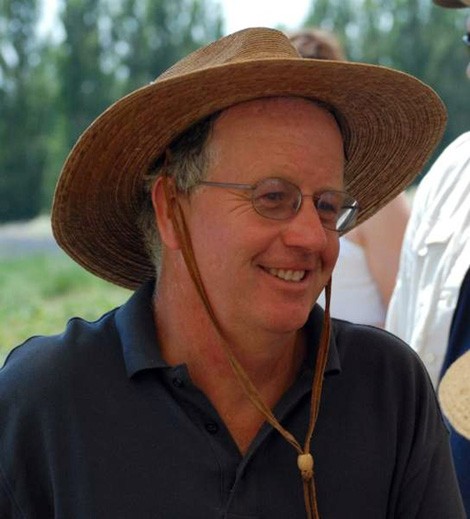 Each week Nigel and his wife Lorraine and his twin sons Eric and Andrew are at the market greeting customers, sharing recipe ideas and contributing to the familial vibe at the Eatwell and Drinkwell booths. This feeling of community is one that many of the chefs who shop at our market are well aware of. Chef Mourad Lahlou of Aziza Restaurant told me this week, "Eatwell is always the first stand I check out. Nigel is there greeting people with a smile and helping those who have questions about his farm and produce. He tends to all his customers as if they were great friends. He remembers what they like and what they buy and makes them feel as though he came to the market just for them."
When difficult circumstances like these arise for our market sellers, chefs like Mourad and other regular Ferry Plaza Farmers Market shoppers are often the first to show their support and appreciation. Many chefs have reached out to us this week after reading Nigel's letter and have asked how they can help. CUESA is planning a fundraising event to benefit Nigel and his family with details to be announced soon. In the meantime one important way we can all support Nigel, Lorraine, the boys and the Eatwell staff and farm crew as they meet this new challenge head on is to continue to shop from them at the market on Saturdays or subscribe to their CSA program.  
To stay posted on Nigel's progress and offer your wishes of support, visit the Eatwell Farm Facebook page.