By
Charlie Kleinman was a man on a mission. When I caught up with him, this chef from Wexler's was on the hunt for vegetables to inspire his spring menu which he calls a farm-to-table approach to traditional barbeque.

One of Wexler's most popular items right now is a barbequed chicken and dumplings dish served with a spring vegetable mélange. The mix changes from week to week and includes whatever strikes Charlie's fancy. On Tuesday he was eyeing tender baby carrots at Heirloom Organics and jumbo asparagus stalks at Zuckerman Farms. He was also planning to finish this "fragrant and bright" dish with some of the last citrus of the season from Hamada Farms and fresh spring herbs.

Charlie says this is one of his favorite seasons at the market. "Spring is the easiest time in San Francisco to be a chef." He added, "You get to roll from one thing you love to another in the span of a few weeks."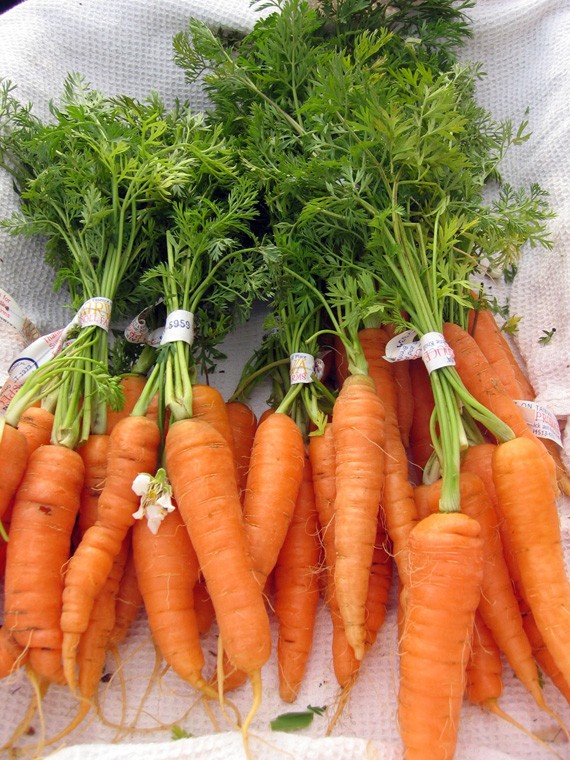 Asparagus, Charlie's favorite spring vegetable will be winding down for the season at the end of this month and spring onions and green garlic will soon be replaced by their more mature counterparts. Most of the year, he adds, things don't move this fast. "Normally, you get excited about new produce as it becomes available but then it lasts just long enough that you almost get sick of it. Spring isn't that way because everything is changing and fleeting."

And, of course, the trade off is worth it. Charlie is anxious to try the first peaches of the season and the summer squash and ripe field grown tomatoes which will make their seasonal debut over the next six weeks. 
DON'T MISS A BAY AREA BEAT! SUBSCRIBE TO OUR NEWSLETTER.