Cherry season is in full swing at the Ferry Plaza Farmers Market and, with new varieties popping up each week but only a handful of weeks left in their short season, now is the time to get your fill. There are over 15 varieties of cherries to try and buy from a dozen different farms. Many of these varieties, like Brooks, Lapin and Rainier, are already available at Paoletti Farm, K & J Orchards and Frog Hollow Farm. Later-season varieties like Bing, Tulare and Chelan will start to appear over the next week or so and run through end of June.

Each variety has its own combination of sweetness and tartness, and that combo can change from week to week and from farm to farm. Sampling before you buy is one of the easiest ways to determine which cherry is the one for you.

One cherry that is almost legendary among Ferry Plaza shoppers is the Montmorency variety, also known as the sour cherry. Only one farmer, John Lagier of Lagier Ranches, grows and brings these tart beauties to the market each year. Be warned though—when they are available, they can be found only in limited quantities and for just a couple of weeks. Lagier told me he will be returning to market this Saturday with Rainier and early Bings, but he won't have sour cherries at his booth until mid-June.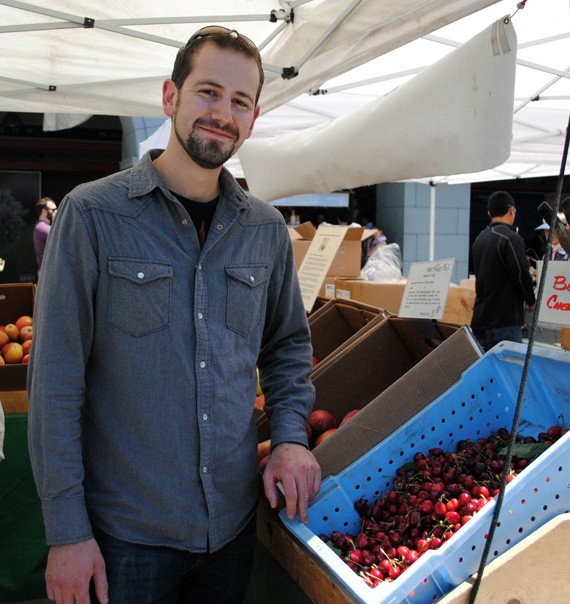 Maven's David Kurtz

Cherries are a versatile fruit. Naturally delicious in desserts and preserves, they also work well in a variety of savory preparations, including as an accent to summer salads, an addition to a spicy relish, or stewed and served with duck, pork or lamb. (You can check out some recipes on the CUESA website.) It's no wonder than that chefs who shop at the market like David Kurtz of Maven, anxiously look forward to cherry season each year. "Cherries are my favorite stone fruit for sure," David told me recently, adding that he would be incorporating them into French toast bread pudding for Maven's soon-to-be-launched new brunch menu. Come taste some cherries this week at the market, and check out David in action as he joins us for a cooking demo in the CUESA Classroom this Saturday, June 9, at 11 am.