Lenore Estrada and Anna Derivi-Castellanos are both bona fide pie junkies. The two friends, who met in the third grade while growing up in the Central Valley, started baking pies together in high school. Their shared love of pie inspired them to launch Three Babes Bakeshop last year.

Dessert has always been in both women's blood. Anna's great-grandfather came to America from Italy as a pastry chef on J.P. Morgan's yacht, and later worked at the Waldorf Astoria. Lenore credits her paternal grandmother, who was famous for her desserts in the migrant farming community she grew up
in, with teaching her how to bake and appreciate seasonality.

After several years of doing their own thing—Anna ran a natural foods co-op in the outer Sunset and went to culinary school, while Lenore graduated from Yale and worked in the corporate world and as a substitute Spanish teacher —they came together again and realized that pie was their passion.

Where's the third babe, you may be wondering? Lenore and Anna started the business with their friend Katarina Svoboda, who was at the time juggling Three Babes and a full time job at YouTube. As the business took off, she found it difficult to juggle both and bowed out of the Babes.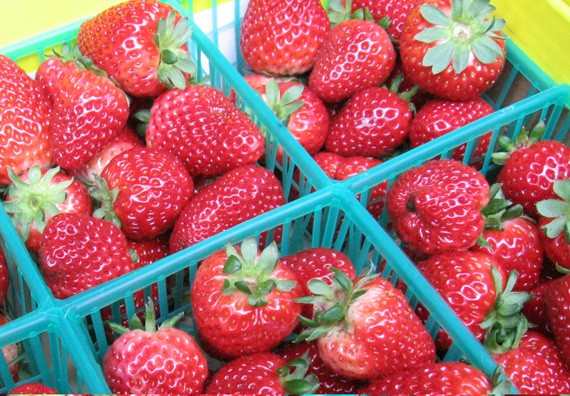 Three Babes Bakeshop's pie selection changes seasonally and, since opening the business last year, they have made over 250 varieties of pie. Lenore and Anna both say they favor a good contrast of tart and sweet when it comes to choosing fruits to work with. "I just love tart fruit, combinations like plum and raspberry," Lenore told me. As for Anna? "It's all about seasonality for me—apricots from Frog Hollow Farm and a nice crumble topping. It doesn't get much better than that," she says.

Their seasonal pies are available for delivery and pickup at their weekly pie pop-up at Stable Café in the Mission, where you can choose from a selection of their sweet pies and some savory ones, too. Savory options include a meat, veggie and chicken pot pie, and all ingredients are sourced from local farms and purveyors like 4505 Meats.

Lenore and Anna will be showcasing berries from Yerena Farms in a mixed berry and rhubarb pie at CUESA's Berry Bash this Saturday, which will also include a berry tasting booth, info about how your favorite varieties are grown and more. The Babes will be demonstrating their pie skills, sharing samples of the results and answering your pressing pie-baking questions in the CUESA Classroom at 11:45 am. All Berry Bash events are free and open to the public.