By
This week's Tuesday market took place on a gorgeous winter day; it was sunny and crisp out and the farmer's stands were brimming with winter produce. The chefs too were out in abundance picking up ingredients for their menus. I stopped to chat with a few of them to find out what they were shopping for and out how they would feature them.

Local Mission Eatery's Jake DesVoignes was all bundled up when I caught up with him at the Twin Girls Farms stand where he was picking out juicy pomegranates. He was planning to use them in a crab salad with chicories and walnuts. Chef Chris Kronner of Bar Tartine was at the County Line Harvest stand picking up some French breakfast radishes to serve with a fig and walnut anchoiade.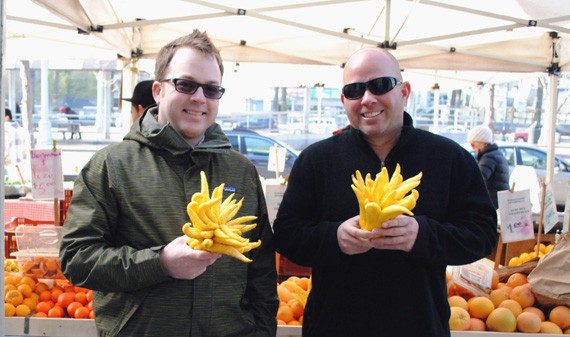 At the Hamada Farms booth, Hog & Rocks' Chef Scott Youkilis and his partner Eric Rubin of Tres Agaves Tequila were stocking up on citrus for the cocktail menu. They picked up blood oranges for the bar's version of an Old Fashioned and Buddha's Hand citron. The Buddha's Hand would be zested and added to their Lemon Drop and the peel candied as a garnish for the Old Fashioned.

Here's a look at some my favorite signs of winter and market picks for the week:
Baby collard greens -- Four Sisters Farm
Sunchokes -- Chue's Farm
Red Dragon carrots -- Heirloom Organic
Cherimoyas -- Brokaw Nursery
Oro Blanco grapefruits -- Tory Farms
Cauliflower -- Dirty Girl Produce
Pierce Pt. Cheese -- Cowgirl Creamery
Kishu mandarins -- Blossom Bluff Orchards    
Artichokes -- Iacopi Farms
Tulips --Thomas Family Farm
DON'T MISS A BAY AREA BEAT! SUBSCRIBE TO OUR NEWSLETTER.