Elianna Friedman is no stranger when it comes to the Bay Area food scene. As a program coordinator for the San Francisco Food Bank, she created cooking and nutrition classes for the organization's low- income participants. At Congregation Beth El in Berkeley, she led classes on food justice and, hunger education and acted as chef and kitchen manager for their family dinner program, "Home for Dinner." In 2010, she took on the role of Market Director for the New Taste Marketplace, which showcases small local food producers monthly at St. Gregory's Church in Potrero Hill and is a community fundraising event for the SF Food Pantry.

Elianna, who in addition to holding an MBA in non-profit management, Elianna is also a graduate of the Culinary Institute of America in Hyde Park. She has also volunteered her time with 18 Reasons in the Mission and has acted as a volunteer mentor to participants in La Cocina's small business incubator program.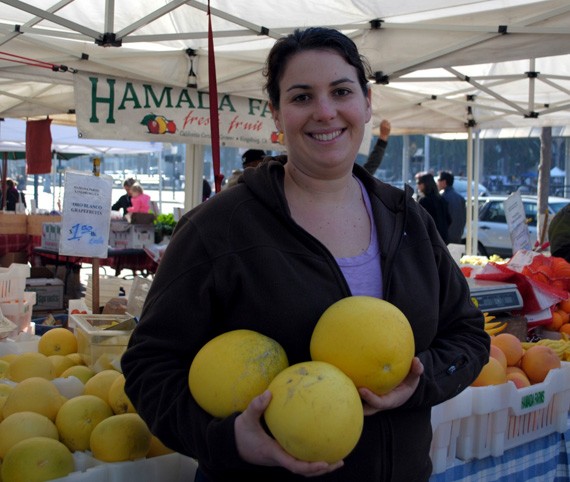 This year she will be expanding on her experience when she joins CUESA and the Ferry Plaza Farmers Market on January 23rd as our new market chef. The market chef is responsible for coordinating the weekly 'Market to Table' program held at the Saturday market, organizing low- cost, hands- on public classes on topics like home preserving, cheese-making, and butchery and working closely with CUESA's events staff and our team of volunteers to produce annual fundraising events like the Summer Celebration and the Sunday Supper. With Elianna's background and passion for food and community outreach we look forward to new projects she will add to our programming in 2012.

Elianna has been a long- time shopper at the market and her husband, Jesse Friedman of SodaCraft and Almanac Beer Co., has also been a vendor at the Tuesday and Thursday markets. I caught up with Elianna this past week at the market as she shopped for pomelos—her favorite winter fruit—and asked what she's most excited about in her new role as market chef. "I'm looking forward to becoming more entrenched in the community here and getting to share my passion for food," she told me, "the San Francisco food scene is amazing and all the chefs are really supportive and collaborative and I'm excited to be a part of that."

Check out Elianna in action when the Market to Table programming resumes in February.