Last week marked the official start of summer, one of our favorite times of years at the Ferry Plaza Farmers Market. Sweet Brentwood corn from G & S Farms, organic blueberries from Sierra Cascade Blueberry Farm, white apricots from Candy Cot Fruit Company and the first field-grown cherry tomatoes from Eatwell Farm were all auspicious indicators that the season is starting off on the right foot. CUESA will be showcasing the bounty of the season at our second annual Summer Celebration on Sunday, July 15th.

For this year's event we have enlisted the talent of some of our favorite restaurants and chefs who make shopping at the Ferry Plaza markets part of their weekly routines. Many of these chefs will be partnering with some of the farmers they source from regularly. The team from Bix will highlight their favorite stone fruit from Tory Farms, while Grand Café chef Alicia Jenish will feature produce from County Line Harvest in a fava bean, fresh mint and Crescenza tartine. Contigo's Brett Emerson will be serving a roasted summer corn, mushroom and Manchego montaditos and as guests arrive they can check out the whole-beast carving station with Ryan Farr of 4505 Meats, who will be grilling a whole lamb from local rancher Don Watson.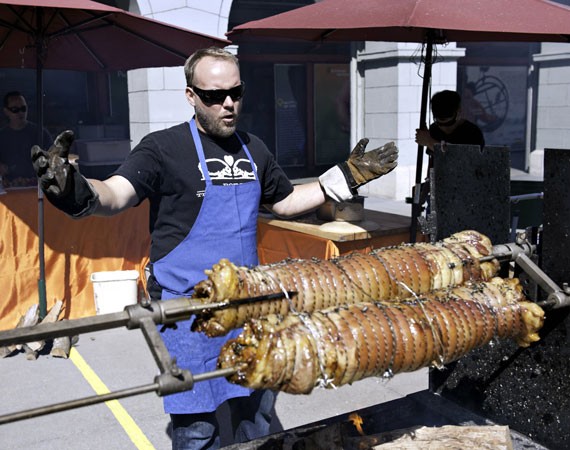 Ryan Farr grilling
In addition to enjoying bites from these chefs as well as from Betelnut, Cotogna, ICHI Sushi, Range and more, guests will sip on signature cocktails from Bourbon and Branch, Rye and Comstock Saloon. For the evening we will be featuring locally produced wines including two San Francisco based wine producers--Wait Cellars and Shoe Shine Wine. Magnolia Brewery and relative newcomer Almanac Beer Company will be pouring beer at the event and non-alcoholic drink options will also be available from Drinkwell Softers and the folks at The Ice Cream Bar.

Your ticket to the Summer Celebration is the best way to meet the faces behind your food while providing much-needed support for CUESA's ongoing education initiatives, including free cooking demos, kitchen skill-building classes, Schoolyard to Market youth entrepreneurship program, and sustainability scholarships for farmers. Tickets are $125 ($85 of which is tax deductible), but enter the "marketwatch" code for $25 off the ticket price from now through Sunday July 1.