Adam Dulye moved to San Francisco from Colorado last January to take over the role of Executive chef at Monk's Kettle. His first stop when he arrived on the scene was the Ferry Plaza Farmers Market to check out the fine produce he would now have at his disposal each week. For the past eight months Adam has made the market part of his weekly routine and told me recently that he has enjoyed watching the seasons change but is now anxiously looking forward to the transition into late summer and early fall.

We'll welcome chef Dulye this Saturday at 11 am in the CUESA kitchen for a Market To Table cooking demonstration featuring his summer favorites—peaches. Adam will show the audience how to use peaches in both sweet and savory preparations. He'll use a white peach variety with pasture-raised pork from Marin Sun Farms and for dessert he'll use a riper yellow variety like the Summer Lady peaches available this week from Frog Hollow Farm.

Adam's peach advice: "You don't always have to buy the most perfectly ripe piece of fruit. A firmer peach works better for grilling. A riper peach would just get too mushy and be confusing when paired with pork." For his dessert however he says he prefers a ripe peach because of its high sugar content, which helps it caramelize nicely.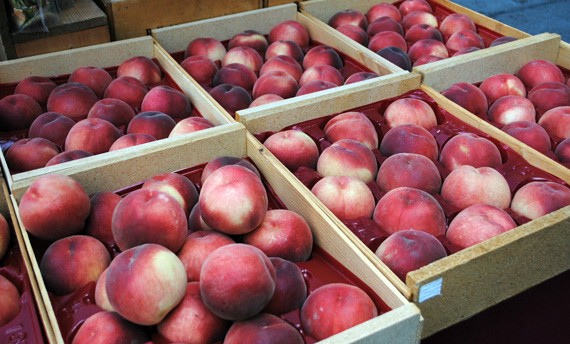 Beer plays such a huge part in the Monk's Kettle menu, both for pairing with the gastro-pub style cuisine and often as a key ingredient itself Adam says for his demo in our kitchen he will be bringing along farmhouse-style ale —that's great for pairing with both sweet and savory dishes — for his
audience to taste and enjoy.

With peaches in every corner of the market this month, the hardest decision you'll have to make is which variety to pick. The folks at Bella Viva Farms are hoping to make that a little bit easier as they host their 3rd annual "Great Peach Sale' this Saturday August 13th from 8 am until 2 pm in the south driveway. Bella Viva's next generation farmers Belle and Vivian Martino will be on hand with half price flats of their Yellow Angelus and O'Henry peaches for sale.