Chef Adam Dulye was excited to get his hands on fava beans from Star Route Farms at the market this week. Young favas, he told me, are one of the spring vegetables he looks forward to most each year. Since taking over the kitchen of Monk's Kettle he has used the Ferry Plaza Farmers Market to inspire and guide his menus, which put a seasonal and local spin on classic gastropub fare. In addition to the favas, he also had spring onions, peas, mushrooms, strawberries, English peas and baby carrots on his shopping list this week.

"I love favas or spring peas finished with a bit of preserved lemon. It adds such brightness to them," Adam told me. At the restaurant, he makes preserved lemons in large batches using a simple solution of sugar and water. He finds that using sugar to preserve the lemons rather than salt lends them more versatility, making them suitable for sweet, savory and cocktail preparations.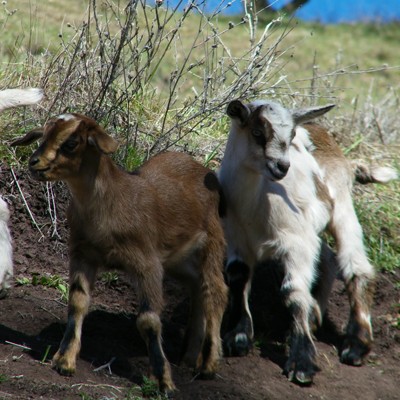 To showcase another one of the delights of spring, Adam will return to the market and the CUESA Classroom on Saturday, April 21, to demonstrate a couple of recipes featuring goat cheese for the fourth annual Goat Festival. He has created two recipes for the demo, a fresh goat cheese sabayon with strawberries, and a risotto using favas, spring potatoes, hedgehog mushrooms and aged goat cheddar.

In addition to Adam's cooking demo there will information about the goat products you'll find at the market from farmers and vendors like Achadinha Cheese Co., Andante Dairy and Bodega Goat Cheese. Besides these regular market sellers we'll be joined at this year's Goat Festival by an array of some of the finest producers of goat-based products in Northern California, including Laloo's Goat Milk Ice Cream, Happy Goat Caramel, Redwood Hill Farm and others, who will be talking goat and offering free samples. Redwood Hill Farm will also be bringing their "kids" to meet your kids at the popular baby goat petting area in the south driveway.

Stop by on Saturday to see Chef Adam Dulye in action, taste some goat milk treats and meet the baby goats. All Goat Festival events are free, open to the public and brought to you by CUESA.