Summer is officially here. For the first time in a long while the temperatures in the city seem to match the season. The weather is also heating up in the Central Valley and other California farming regions, meaning the fruit is ripening and the Ferry Plaza is filling up with all the foods that make summer so satisfying. The chefs were out in abundance this week snapping up their favorite summer veggies and looking ahead to what's to come.

Thomas McNaughton of Flour+Water is a big fan of summer squash varieties like the Zephyr, Magda and yellow zucchini from Thomas Family Farms.  Thomas is using the squash on a pizza bianco with house made straciatella cheese. He also added squash to the fried pork belly tacos with Calabrian chilies and salsa verde that he created for his stint as guest chef at Tacolicious last week. Despite all this, he says his favorite way to enjoy summer squash is raw. "I just slice it thin on a mandolin and toss with lemon juice and salt," he told me. "The moisture content in the squash is pretty high and the salt and acid draws that out and heightens the squash's natural flavor," he added.

In addition to squash, Thomas Farms is also starting to harvest heirloom new potatoes; right now they have  Desirees and Bintje (my personal favorite), among others.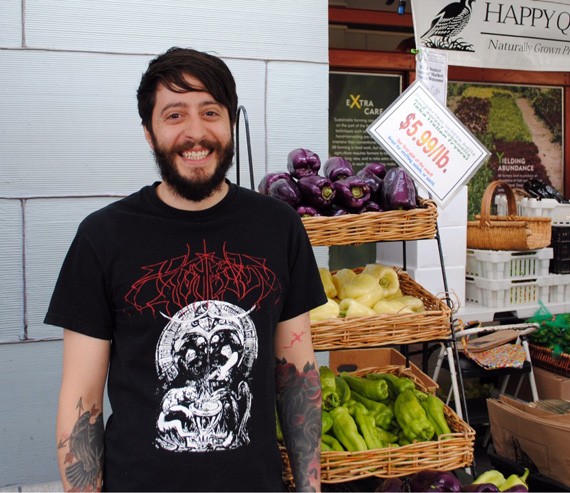 This week Brett Cooper, Chef of Outerlands Café, was picking up peppers at Happy Quail Farms. "I can easily eat 3 pounds of their Padrón peppers by myself," He told me. "They're the perfect frying pepper and really don't need more than a good char, olive oil and some sea salt."  He says he's also crazy about their Cubanelle peppers. "They have a thicker side wall," he says, "so they're great for stuffing."  The Cubanelles' flavor also works well with other summer vegetables. For instance, he's looking forward to using them with Dirty Girl Produce's pole beans, which should be available in the next few weeks.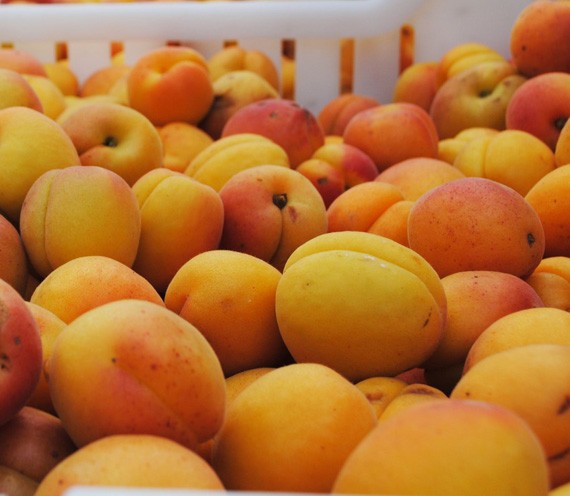 Other summer faves returning to market this week include corn from G & S Farms, apricots from CandyCot Fruit Company, peaches galore from Woodleaf Farms and organic blueberries from Sierra Cascade Blueberry Farm. Farmer Ed George of The Peach Farm returned last week with his squash blossoms and a very small crop of Royal Blenheim apricots that he says will be available only for the next two weeks. Coming up next? Tomatoes, eggplants and even more stone fruit. Hello, summer!