Joel Baecker and Naomi Crawford having been cooking up Neapolitan style pizzas out of their mobile wood-fired pizza oven since 2006. Their business, Pizza Politana, can be found at local farmers markets (including the Tuesday and Thursday Ferry Plaza Farmers Market) street food events and community gatherings. Pizza Politana's weekly menu includes a simple yet delicious margherita made with a raw San Marzano tomato sauce, a weekly market-inspired pizza, and other rotating offerings.

With the "market pizza," Joel and Naomi like to highlight some of the best seasonal produce from their farmers market neighbors, such as County Line Harvest, Capay Organic, and Star Route Farms. In late winter, the market pizza often includes mushrooms, nettles, house-made sausages and chicories or greens. "Cavolo Nero is one of our favorite greens to use, especially with sausage. The fatty flavor of the meat with the bitterness of the kale works nicely," Naomi told me. As the market transitions into spring,
their pizzas will feature green garlic, spring onions, asparagus, fresh goat cheeses and artichokes. In summer and fall, Joel and Naomi opt for fresh tomatoes, summer squash, figs or corn.

For Joel and Naomi, Pizza Politana is a quintessentially mom-and-pop business, and the couple share duties making pizzas, taking orders and sourcing ingredients. While they may supplement meat offerings with bacon from Hobb's or ham from Smithfield, many of the sausages used are made in-house. Joel and Naomi also use high-quality, locally made cheeses sparingly on their pies so as not to overpower the flavors of the other toppings.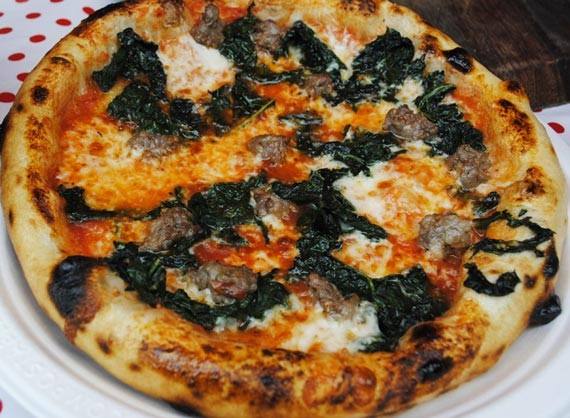 Pizza Politana recently moved from a shared commercial kitchen space to a kitchen of its own in Petaluma. The new space houses an office and a prep kitchen and is big enough to allow Joel and Naomi room for a new series of pizza making classes they started just last month. The classes are focused
on the basics of dough making, selecting and prepping seasonal ingredients, and making sauces and sausages from scratch. Participants also get to make their own pizzas, sample some local libations and go home with some dough to practice with in their own kitchens.

Stop by the Tuesday or Thursday Ferry Plaza Farmers Market each week to taste Joel and Naomi's market pizza or visit the Pizza Politana website for more information about upcoming classes.