With Thanksgiving only a week away, there's no time like the present to start planning a menu based on what's available at the Ferry Plaza Farmers Market. Supporting local farmers and artisan food producers by serving the fruits of their labor (literally!) is one of the best ways you can embrace the spirit of the holiday and offer thanks.

This week, the market will be brimming with all the basics for a perfect locavore Thanksgiving, including dry-farmed potatoes from Little Organic Farm, fresh herbs from Eatwell Farm and sweet potatoes from Chue's Farm. Need ingredients for your Thanksgiving dessert? Everything you need to make a post-turkey dinner galette—fresh butter, wheat and heirloom apples—can be found at the Saturday market.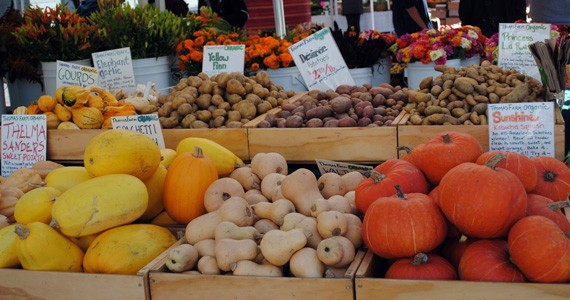 For those who can't make it to the market this weekend, you'll have two more opportunities to stock up. Find Brussels sprouts, braising greens, winter squash and flowers for your centerpiece at the Tuesday market. There will also be a special Wednesday market, on November 23 (our Thursday market will be closed for the holiday), where you can expect all the regular vendors, along with a few special guests, including Hog Island Oyster Company, Humphry Slocombe and Downtown Bakery.

Fuel up before hitting the farm stands on Tuesday with a Buffalo burger from Prather Ranch, tamales from Donna's, wood-fired pizza at Pizza Politana or a pastrami sandwich at Wise Sons. On Wednesday, you'll find mid-day pick-me-ups from Hapa Ramen, Roli Roti, Tacolicious, Namu and Captain Mike's Holy Smoke. And for those who like to celebrate Thanksgiving in a big way, 4505 Meats will be serving up Turducken sandwiches and fried turkey legs to get you in the mood.

Stumped about what to cook this year or yearning to try something new? Check out the handy Thanksgiving Guide on the CUESA website for info on turkey pre-orders, recipe ideas and more.