In addition to the 100 + restaurant chefs who shop the Ferry Plaza Farmers Market, there are also a number of small artisanal food producers who source seasonal market ingredients for their products. Two of these locally grown businesses—Sow Fresh Juice and Nana Joe's Granola–are at the market each week to pick up orders from their favorite farms and check out what's new and in season. CUESA is pleased to announce that both of these new businesses will join the vendor lineup at the Thursday Ferry Plaza Farmers Market starting on March 21.

Sow Fresh Juice is the brainchild of Luisa Alberto and Derek Castro, two former Blue Bottle Coffee employees who had a dream of bringing mindfully sourced and carefully crafted fresh juice to the people of San Francisco. The duo has spent the past year refining their techniques and experimenting with fresh fruits, veggies and herbs to come up with flavors like "The Agrarian" (carrot, celery, apple, kale, fava bean leaf, and fennel). Currently, their tasty juices are available only by delivery or at their weekly pop-up appearances at Yield Wine Bar in the Dogpatch.

While it's hard to beat the vibrancy of late winter citrus juice, Luisa and Derek are looking forward to the abundance of the spring market. "We are passionate juice makers," Luisa told me. "Our hope is that folks will make our juice a part of their farmers market ritual."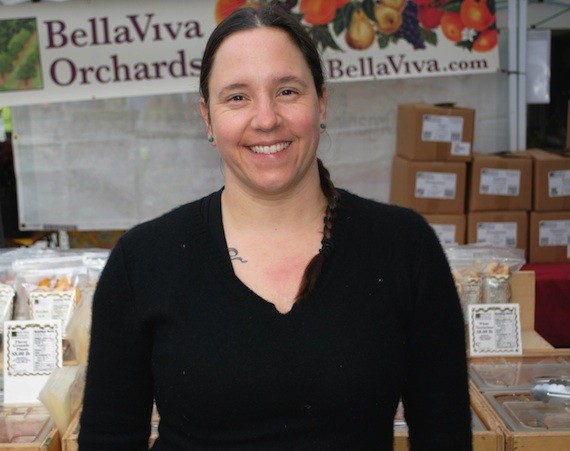 Michelle of Nana Joe's Granola

Nana Joe's owner and master granola maker Michelle Pusateri worked as a pastry chef for many years before developing her own granola recipes. She found that most commercially available granolas were either overly sweet, stale or filled with a lot of unnecessary processed ingredients. Her version uses farmers market ingredients, fruits and nuts and gets its sweetness and depth of flavor from fresh juice and maple syrup.

She now has four gluten-free varieties of granola and just launched her latest creation, a rotating seasonal blend she calls Chef's Choice granola. She is currently working with Laurence Jossel of Nopa to create the first batch of Chef's Choice, which will feature pistachios, almonds, nibs of bitter TCHO chocolate and dried unsulfured cherries and apricots from Bella Viva Orchards.

This year marks the 20th anniversary of the Ferry Plaza Farmers Market. Since day one, it has been our goal to connect urban consumers with farm fresh produce and help local small food producers reach a wider audience. We are excited to have Sow Fresh Juice and Nana Joe's Granola join our market community. Look for them at the Thursday market in late March, adjacent to Blue Bottle Coffee.