Allison Mountford, executive chef and owner of Square Meals, and Sarah Henkin, her new operations director, were at the Thursday market recently to shop for ingredients for their weekly changing menu. Allison started Square Meals shortly after graduating from culinary school in 2006 and the business has since grown from a private chef service to a brick-and-mortar establishment in Polk Gulch, which opened last December. She brought on Sarah—a classmate from her culinary school days and former market chef at the Ferry Plaza Farmers Market—to help expand the menu and further develop their catering and home delivery services.

The concept behind Square Meals is to provide families and individuals with wholesome and hearty meals made from scratch with organic, local, and seasonal ingredients. At their storefront you can choose from a variety of freshly prepared salads and main dishes to eat on site or take out. They also offer a meal delivery service three days a week that can be tailored to your needs and dietary concerns. They have recently added a weekend brunch and a happy hour menu on Fridays and Saturdays, complete with tasty small bites and some great local beers.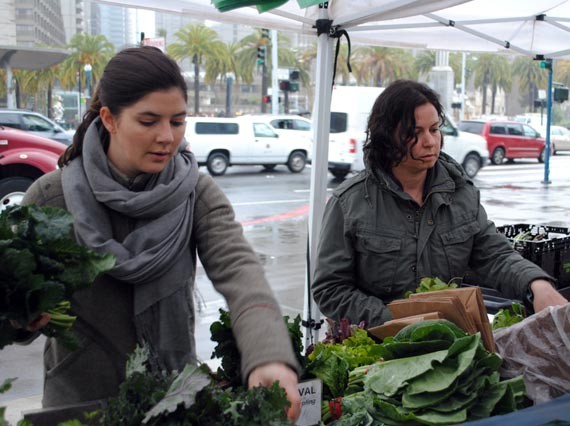 I joined Allison and Sarah as they scoped out the market for fresh ingredients to incorporate into their spring menu. Asparagus from Zuckerman's Farm was high on their list, as were pea tendrils, spring onions, green garlic and radishes. "As much as we love the winter vegetables, it's exciting to see something green and new," Allison told me.

Asparagus will show up in a variety of preparations on their current menu—"raw in a salad, in a creamy soup with a bit of sorrel and in a vegetable tagine," Sarah told me. Pea tendrils and radishes will make their way into a soba noodle salad, spring onions will be added to a roasted vegetable medley, and the green garlic will be transformed into creamy vinaigrette for a fingerling potato and wild arugula salad.

Other spring ingredients they are looking forward to? "Sugar Snap peas, definitely," Allison said, "They're one of my favorite things." She's in luck as sugar snap peas made their first appearance last week at Everything Under the Sun.