As this year's abundant tomato season begins to wind down at the Ferry Plaza Farmers Market, now is the time to stock up on flats of tomatoes to preserve for the winter months. At farms like Everything Under the Sun, Lucero Organic Farms and Dirty Girl Produce, you will find many varieties of tomatoes that are perfect for roasting, canning and freezing. It is also the ideal time to enjoy them while they are still fresh. One of my favorite ways to enjoy a good, ripe market tomato is with fresh goat cheese from Andante Dairy, a drizzle of olive oil from Sciabica and Sons and a crusty loaf of Acme Bread.
On Wednesday, October 10, David "Baz" Bazirgan and his crew at Fifth Floor will be savoring the end of tomato season with a seven-course tomato celebration. Baz and the team recently visited Dirty Girl Produce's farm to meet farmer Joe Schirmer and learn more about how his tomatoes are grown. All dishes on the tasting menu will be made with Joe's popular dry-farmed Early Girl tomatoes, including a deconstructed Manhattan-style chowder, a tomato flan, a raviolo in a saffron-tomato sugo, and a fromage blanc tart with candied dried tomato and tomato jam ice cream. Fifth Floor's bar manager Brian Means has also concocted a tomato-inspired cocktail for the evening called "Sunset on the Horizon," made with Aquavit, fresh tomato juice and vermouth and finished with a habañero tincture.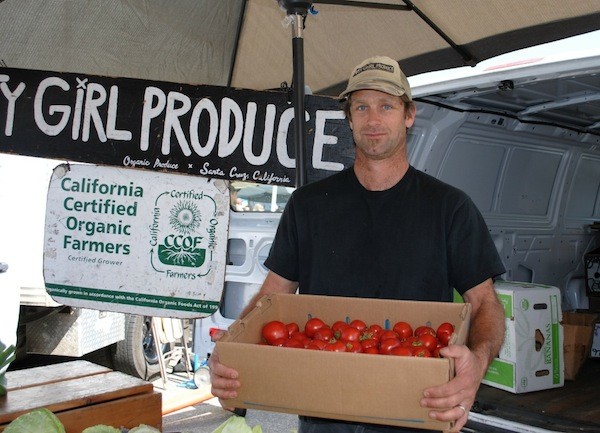 Baz was navigating the busy Saturday market this week with his five-month-old son, Warren, picking up items for the tomato feast and the rest of the Fifth Floor menu. He told me that he and his team have put a lot of work and thought into the dishes. "There's a nice combination of flavors on the menu to keep it from being too jarring and so that people won't be sick of tomatoes by the last course," he told me. Make your reservation today for the Fifth Floor tomato celebration this Wednesday and enjoy the Early Girl-inspired tasting menu and meet farmer Joe Schirmer, who will be on hand to taste Baz's creations and greet the public.
Look for Dirty Girl's tomatoes at the Thursday and Saturday markets. For ideas on what to do with tomatoes and for a behind-the-scenes look at the farm, check out the latest post on the farm's blog, Dirty Girl Cookbook.