Late winter is the perfect time to warm up with an apertivo or two and on Wednesday, February 23rd you can do just that at the first Farmers Market Happy Hour of the year. Tickets include two full-sized cocktails from the team of the highly anticipated Locanda set to open in March. Both cocktails––one a riff on the classic Negroni and the other an original creation––will feature Campari. There will also be 10 sample-sized sips from the bartenders at Rye, Azul, Hotsy Totsy, Beretta, Burritt Room, 15 Romolo, Bar Adagio, Prospect, Chow and Blackbird.

The Farmers Market Happy Hour will also feature small bites from some of the city's best restaurants including Dungeness crab arancini with Calabrese chili oil from Ruggero Gadaldi of Beretta and hor d'oeuvre's from the chefs at Fifth Floor, 15 Romolo, Azul and Il Cane Rosso. Locanda's executive chef Anthony Strong will give us a sneak peek of what's in store for us from the kitchen with two appetizers--a Pizza Bianca with Bellweather crescenza, artichokes ala Romana and mortadella and Lucky Dog Ranch Short Ribs-- to be paired with the Campari cocktails.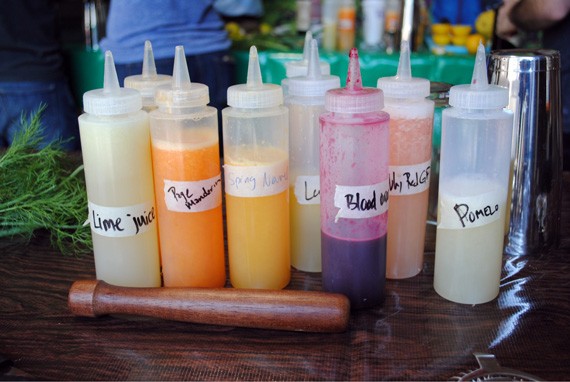 This past week, CUESA and 15 Romolo's Aaron Gregory hosted a bar lab for the participating bartenders and members of the local chapter of the United States Bartending Guild. The bartenders got a chance to check out what's currently available at the market and experiment with cherimoyas, dates and herbs as well as juices made from kiwi, fennel, carrot and the plethora of citrus from farms like Hamada and Olsen Organics. They also choose spirits to use in their creations including some from small batch distillers like Templeton Rye and St George Spirits. At the lab Locanda's bartending team Brian MacGregor, Roberto Chicas and Nahiel Nazzal perfected their take on the Negroni and decided on a drink they will call Coriandolo Corretto which in addition to Campari includes coriander infused Tequila, Vermouth, and fresh squeezed Ruby Red grapefruit juice.

The Farmer Market Happy Hour is a benefit for CUESA and the USBG and all guests will get a chance to vote for their favorite cocktail and appetizer and be entered to win one of 5 prizes including a gift certificate to the Ferry Plaza Farmers Market. Tickets are still available but are going quick and with so many tasty treats and carefully crafted cocktails to try this is one not to miss!