Spring officially starts next week, but with a mild winter, some of our favorite seasonal veggies have already started making an appearance at the Ferry Plaza Farmers Market. From the first stalks of bright green asparagus filling up the chef carts to the much-anticipated return of Knoll Farms' pea shoots, radish greens and green garlic, it feels like a seasonal change is already underway.
This Saturday is St. Patrick's Day, and at the market we'll be wearing our green and eating it too at the Greens Celebration. Starting at 10 am, CUESA's market chef, Elianna Friedman, and her team of culinary volunteers will host a make-your-own green juice bar, which will feature a selection of greens found at the market right now, such as dandelion, nettles, cress, sorrel and other tonic veggies. You can also take home copies of CUESA's guide to market greens and recipes.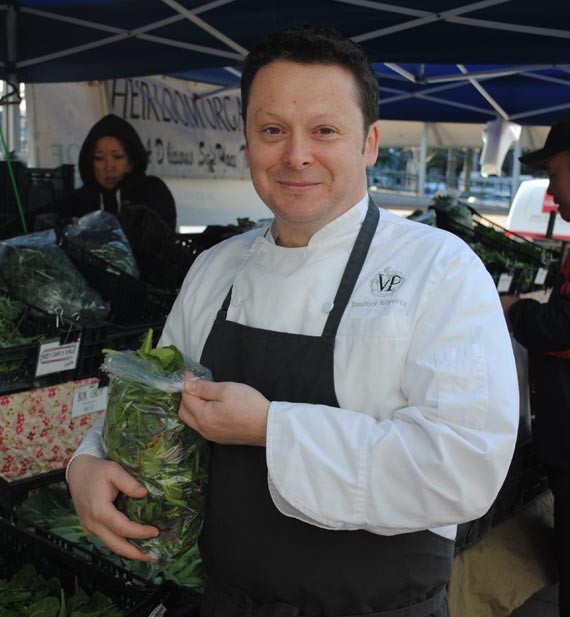 Our chef demos for the Greens Celebration will focus on various found at the market and creative ways to use them. At 11 am, Chef Dmitry Elperin of The Village Pub will show us some simple preparations for this season's leafy offerings. When asked if he had a particular favorite, Dmitry told us, "Not really. I'm kind of crazy about them all." His demo will be followed at 11:45 by Ray Plosscowe, founding chef of Café Gratitude, who will be whipping up a Lacinato kale and avocado salad and a "shamrock smoothie" with almond milk, fresh mint and local honey. Samples of all recipes demonstrated will be available, and the chefs will take questions and provide tips for selecting, storing and cooking with market greens.

All activities for the Greens Celebration are free and open to the public and will take place in the CUESA Classroom in front of the north arcade. You can also follow CUESA's Greens Celebration on Pinterest.