August 5-11 has been declared National Farmers Market Week by United States Secretary of Agriculture Tom Vilsack, and there are more than a few good reasons for you to celebrate the season and your favorite farmers markets this week. Summer produce is abundant at the Ferry Plaza Farmers Market, and the chefs who shop here are stocking up on everything from sweet bicolor corn to summer squash to field-grown tomatoes.

Chef Hector Diaz of B Restaurant and Bar told me enjoys showcasing tomatoes on his menus in the summer. He is particularly fond of the wide variety of heirloom tomatoes that are available right now at Balakian Farms. Heirloom tomatoes are generally bred for flavor and come in a variety of colors, shapes, and sizes that you probably won't find on your typical grocery store shelf.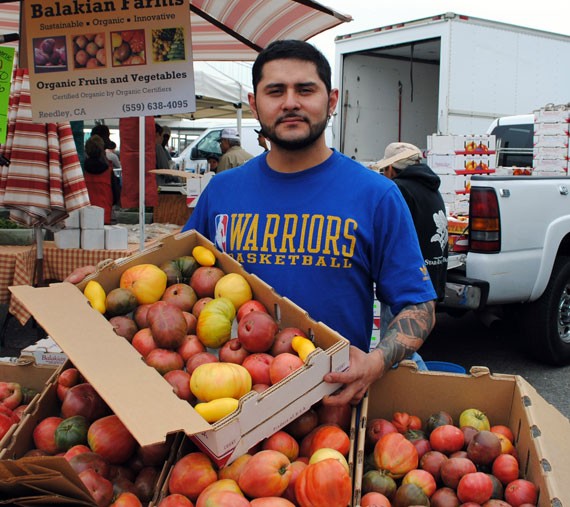 Chef Hector Diaz
"Keep it simple," Hector advised me when I asked him for tips on the best way to showcase a ripe and ready tomato. "There's a reason the Caprese-style salad is so popular," he said. "The contrast between a juicy, tart and sweet tomato and a creamy cheese like mozzarella or house-made burrata is a classic that really can't be beat." When cooking with tomatoes, it is also best to keep it simple and allow their natural flavors to shine. "My favorite way to cook with tomatoes is to reduce them with a little red wine and spices—almost like a jam," Hector recommends. "It's a versatile preparation and makes a good crostini spread or filling for a tomato tart."

In the summer at the Ferry Plaza Farmers Market, you will find over 75 varieties of vine-ripened tomatoes, including a wide array of heirlooms with names like Aunt Ginny's purples, Brandywine, Lemon Boy and Caspian Pink. There are also several varieties of cherry tomatoes—perfect for snacking on right out of the basket—and starting this week, dry-farmed Early Girls will make their much-anticipated summer debut at Dirty Girl Produce. With so many tomato options, the best way to find the one you like best is to slice a few up, sprinkle a little sea salt on and taste away.