Tacolicious got its start as a pop-up stand serving a small selection of tacos, house-made salsas and agua frescas at the very first Thursday market in July of 2009. The menu featured whatever the Tacolicious crew was inspired by at the farmers market that surrounded them. Within six months, owner Joe Hargrave realized that Tacolicious was a hit and closed the doors of his Spanish-themed restaurant, Laiola, in the Marina to make way for a brick-and-mortar home for Tacolicious. He brought on Chef Antelmo Faria to help him create a more expanded menu for the new restaurant.

Faria and Hargrave did research throughout Mexico, eating their way through street stands and markets to get inspiration for their new venture. "I was really drawn to the markets in Mexico and the more modern take on Mexican cuisine we experienced there," Faria told me. "They're using a lot of fresh market ingredients you might not expect. It's very seasonal and regionally driven there, which is something we can relate to here."

Last November, Hargrave and Faria have opened a second Tacolicious in the Mission, which has garnered as much attention for its slick décor as it has for its satisfyingly good menu of regional Mexican specialties with a decidedly California aesthetic. Even as Tacolicious has grown, the two have stayed true to their roots, supplying their kitchens and the Thursday market stand with seasonal ingredients from the Ferry Plaza Farmers Market. "We like to mix up traditional Mexican flavors, while at the same time incorporating what's at the market," Faria told me.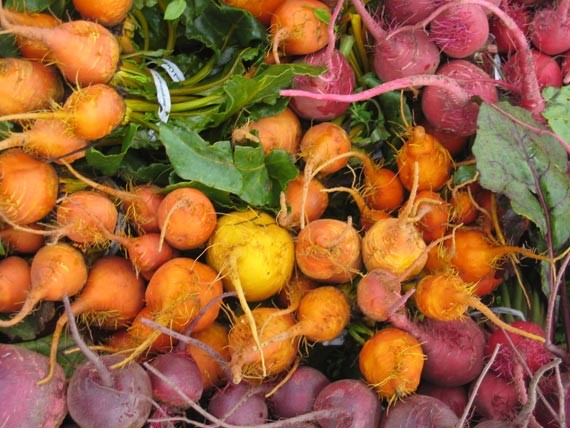 The bean varieties used on the Tacolicious menu—Vallarta, Rio Zape and Pinto—are all exclusively from Rancho Gordo, and the vegetarian taco of the week, as well as several of the appetizers, salads, side dishes and cocktails, are all inspired by Faria's weekly finds. Faria's shopping list this week included Butternut squash, chard and citrus. This week's vegetarian taco features late winter ingredients, and Faria tells me he is also serving a roasted beet salad with house-made queso fresco, citrus and spicy toasted pumpkin seeds. "Beets, or remolachas, are very common in Mexico, so this salad may seem very Bay Area, but it's also very Mexican."

Chef Faria told me that as winter wanes and spring ingredients begin to make their annual appearance, he will start incorporating asparagus, green garlic and other seasonal favorites onto his menu. Check out Tacolicious in the place where it all began—at the Thursday Ferry Plaza Farmers Market every week.