By
What is Chef Laurence Jossel crazy about right now? Kale, winter roots and citrus! He is using all if these in a variety of ways on his brunch and dinner menu at his beloved western addition neighborhood gem, Nopa. "The baby kale at Heirloom Organic is blowing me away,' Laurence told me this week. Laurence's favorite way to enjoy tender baby kale is as a salad alongside roasted meat or grilled fish. He suggested dressing the baby kale in lemony parmesan vinaigrette and topping it with something crunchy like walnuts, almonds or fried chickpeas. "A little fresh citrus isn't bad added to that either,' he said as he tasted the offerings at Tory Farms.

Laurence tells me he has been sourcing citrus from many of the farms at the Ferry Plaza Farmers Market but never comes to shop with a set variety in mind. "I decide what we will use on the menu for the week by tasting what's on offer. The flavor changes so much from week to week in each variety," he
said.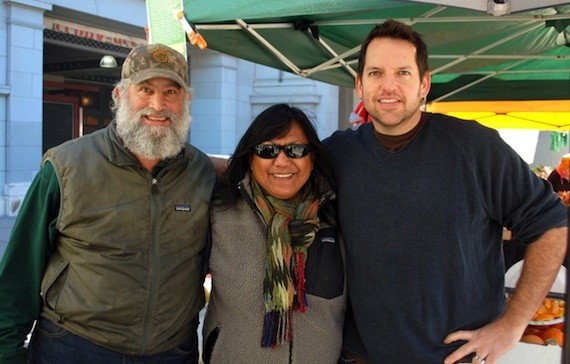 Chef Laurence Jossel with farmers Tory and Rebecca Torosian

At the Tory Farms stand he chatted and joked with farmers Tory and Rebecca Torosian as he decided what varieties would work best for Nopa's menu and a citrus salad on offer at Nopalito right now. Ultimately he decided on Tory's juicy and sweet, Page mandarins—a crop Rebecca and Tory say they have been worried about with the recent cold snap but are optimistic will survive with minimal crop damage.

Six years ago the Tory's weren't so lucky when a severe cold snap resulted in a loss of nearly all their citrus. "The thinner the skin the more susceptible to frost damage," Tory told me, "so we are watching the mandarins closely." Since sugar lowers the freezing point, other citrus varieties with lower sugar content like lemons, grapefruits, and pomelos are at higher risk for frost damage. "It's like the difference between water and punch," Tory told me, "the water freezes at a faster rate than a sugary punch will. It's the same principle for our citrus fruit too --the sweeter the fruit the less chance of frost damage."

Laurence says he's noticed that many of the winter vegetables he has been using at Nopa seem to have been spared from any frost damage and in fact have only improved as the temperatures have dropped. "From a cooking standpoint," Laurence told me, "this cold snap seems to have done some good things for the root vegetables and greens. I've never tasted better turnips, carrots or chicories than I have this season."
DON'T MISS A BAY AREA BEAT! SUBSCRIBE TO OUR NEWSLETTER.