By
Despite the lingering presence of pluots, musk melons and berries, summer is gone and the autumn season is well upon us at the Ferry Plaza Farmers Market.  Early fall favorites like Frog Hollow's Warren pears, fresh dates from Flying Disc and raw olives from Bariani and Knoll Farms have been here for
a few weeks already but the production of other seasonal staples like pomegranates, sunchokes, persimmons and winter squash is just starting to ramp up.

This week at the market it was the winter squash varieties with all their odd shapes, colors and flavor profiles that most piqued my interest and it seems I was not alone. Almost every chef who shopped the market last Saturday seemed to have one variety or another on their list to incorporate on this week's menus. Hapa Ramen's Richie Nakano was after some sweet Delicata squash to use in his rich bowls of ramen, Chef Phil West of Range had chosen several varieties that he planned to puree and serve with seared Yellow Tail and Chef Jason Fox at Commonwealth was picking up pumpkin for a salad with Asian pears, chicories and Basque sheep's milk cheese.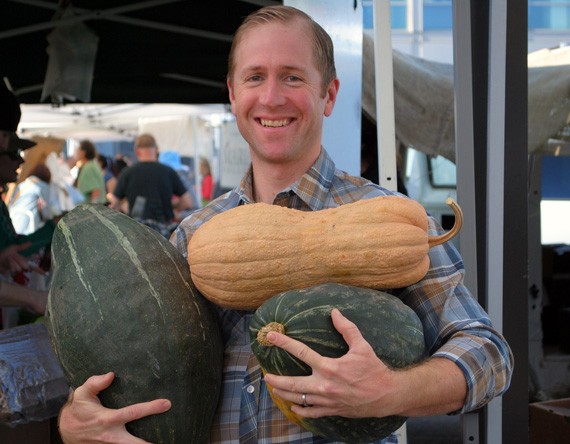 On Saturday I caught up with Peter Rudolph, Executive Chef of Madera Restaurant in Menlo Park, who was picking up his order for some large heirloom varieties at Allstar Organics. Peter was precariously balancing two very large Hubbards, and an Italian butternut variety called Rugosa when I bumped into him at the Allstar Organics stand. The Hubbard which he has been using for soups would also be worked into a salad featuring fresh chestnuts like the ones now available at K & J Orchards and though he didn't
have definitive plans for the Rugosa he was looking forward to experimenting with it on his menu.

Allstar Organics farmer, Marty Jacobsen told me he grows over thirty varieties each year of wintersquash on his farm in Nicasio. He said that while they are all delicious, many of them are his favorite simply because he likes to look at them. In particular he is fond of the warty green Marina de Chiogga and the Rouge vif D'Etampes also sometimes referred to as a Cinderella pumpkin. For eating though his hands downs personal favorite is the Rugosa squash that Chef Rudolph was picking up that day. "It's the original Italian Butternut," Marty said, "before they bred the subtle sweetness and wonderfulness out of
it."
DON'T MISS A BAY AREA BEAT! SUBSCRIBE TO OUR NEWSLETTER.