When Matt Treski wrote and shared the romantic tale of how he asked Heather Rimmey to be marry him, we couldn't believe the time, thought, and creativity he put into the question. Not only did his efforts win him a soon-to-be-wife, they have also garnered the San Francisco resident 10 tickets and VIP entry to the San Francisco Wedding Fair at the Four Seasons on January 22.

Here's the story in Matt's words:
A Brief History of Us
We met in the fifth grade in Orlando, Florida and were casual friends throughout high school. We saw each other at a party in 1998 (six years after high school) and talked briefly. I wanted to stay in touch with her, or at least know that she was doing well, but I never followed through. Then in 2009 we got reacquainted online and, after Heather visited me in Orlando and I visited her in San Francisco, we dated long distance for a year. I moved to San Francisco on December 30, 2010.

The Idea
I really wanted the proposal to be unique and touching. It didn't have to be over-the-top extravagant, but I wanted it to be a story that Heather would enjoy telling.  I thought about trips to romantic places, I thought of several different activities, but none of them felt right.  

Then I remembered an old DeBeers diamond commercial from several years ago. In it, a man takes a woman inside a movie theater, they sit down and the movie that plays is a video of their life. I remember watching that at the time and thinking 'how the heck does a normal guy manage something like that?' When I recalled the commercial last summer I immediately tried to dismiss it, thinking it would never work, but I couldn't get it out of my head. I have some novice experience at editing audio and film so I thought I would at least explore the idea so that I could cross it off the list with a clear conscious, but I quickly realized that this is how I was going to propose and I would make it work one way or another.  

The Lead-Up
So I started to gather music, pictures of us, and clips from movies that we both liked. Meanwhile, I had to figure out what type of theater I could possibly rent out without going broke. I originally settled on The Red Vic Theatre, but the day before I was going to contact them I received an email blast announcing they were closing. I was really frustrated so I took a walk and as I came back to our apartment complex the answer was sitting right in front of me: Opera Plaza Cinema. In all my searching, I had completely forgotten that the new apartment complex we had just moved into had a four-screen theater attached to it. It was perfect: a small, artsy theater that specialized in independent and foreign films. I contacted them and they gave me a great deal.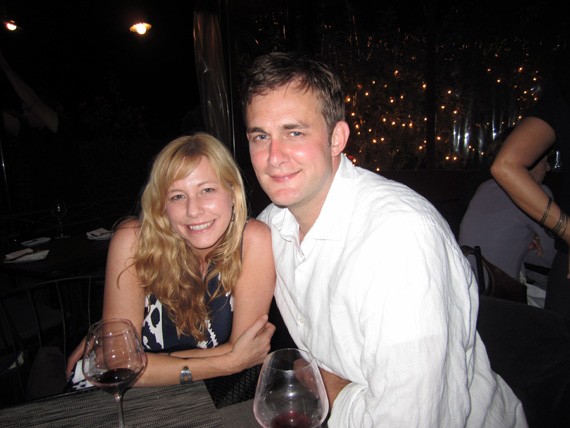 The next big hurdle was just putting the movie together and making sure it would look right on a big screen. It ended up being 30 minutes long and included nine movie clips and four slide shows accompanied by music. It was a lot of work but the farther I got into it, the more I felt certain it would be special. Finally, just a week before the day I was going to propose, I took the DVD of my movie down to the theater and we tested it out. I was very nervous that the resolution would be off or something, but when it started to play and I saw it hit the screen I got goose bumps. It was perfect.  

The Proposal
The fact that we were getting engaged was not a complete surprise to Heather, but she had no idea what to expect in terms of where and how. First, we had a delicious dinner at Frascati. I wanted her to relax and enjoy the meal so I told her not to worry about anything happening out in such a public place. After dinner we headed back toward our apartment complex and just walked around a little, waiting for the time to go in. I told her that I wanted to go watch a short movie in the theater because it was a documentary on love and it seemed apropos for us to check it out. We walked into the theater where I handed the usher two fake tickets.  We then sat down in our seats and the lights went down. The screen lit up and the title of the movie appeared: The Story of Us. It wasn't until then that Heather knew what was happening.  

As sure as I am about some things, I never know if they are going to work out until they do. Heather's reaction to the movie was priceless. We laughed, we cried, and it was just beautiful. At the end of the last movie clip I added three minutes of music and a pink screen that eventually focused into a heart, and that's when I got on one knee and proposed. She said yes.

As we walked out of the theater the projectionist handed me the DVD and I could see that he was wiping away tears. In a time when it is so easy to be cynical and jaded, it is nice that people still respond to the type of emotion and sentiment I put into the movie. We have watched it several times since that night and we still get choked up.

Matt, don't worry, sentiment is alive and well. We are misty too. Congrats on your engagement and your win. We hope you enjoy the wedding fair, and the happily ever after.