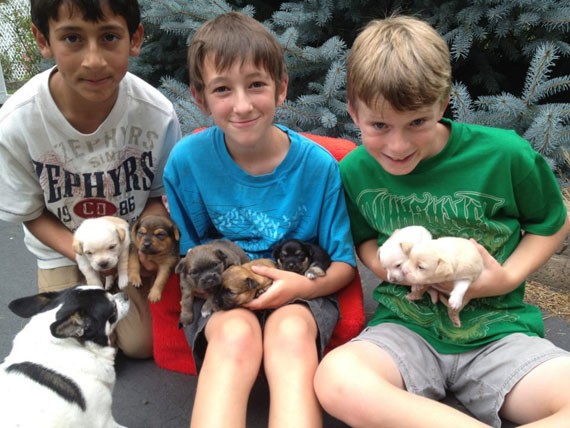 Anyone who reads 7x7.com on the regular knows how much we love animals. Welcome to our new series "Meet Your New Best Friend," with the support of the animal lovers at K9 Scrub Club. It's a weekly chance for you to find your star-crossed furry friend and learn about different animal rescue agencies while you're at it.
This week, say hello to the awesome Wonder Dog Rescue. They've been helping dogs of all sizes, shapes and breeds since 1992. Today, we want you to meet Toby and this (needless to say) adorable litter of puppies. Read their backstories below and get in touch with Wonder Dog Rescue via email at linda@wonderdogrescue.org ASAP to adopt these pups!
Toby, Adult Boston Terrier
Sweet Toby! He is an eight-year-old boston terrier with the vigor of a puppy! Toby loves playing with dogs, people... everyone! He's such a good natured boy. Toby loves to cuddle with his people... he's a regular at the Collingwood Dog park, where he has made many friends!

Poor Toby was made to live outdoors, which caused dry eye and glaucoma. He is responding really well to the treatment. We are looking for a loving home for Toby, and are able to subsidize the cost of his eye meds as necessary. Toby's ideal home would be one with other dogs or NONE .... he can hang out while his family works or is at school, but please be prepared to give this fella some quality one-on-one when you get home! Give this guy a chance... he's a DOLL!

Sweet Small Puppies, Chihuahua mix
These adorable puppies were born at Wonder Dog, after we rescued their very pregnant mom (a chihauhua mix) from a shelter. They are seven-weeks-old now, available to be adopted in ONE WEEK. They are roly-poly little critters, so full of love and adventure!
This post is sponsored by K9 Scrub Club, located in Noe Valley.  A premium dog wash & specialty store like no other!