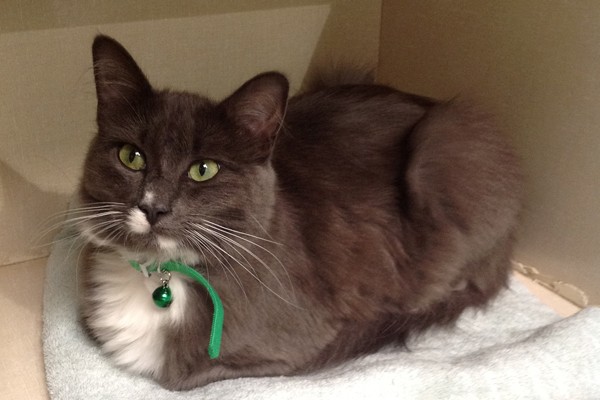 ---
Anyone who reads 7x7.com on the regular knows how much we love animals. Welcome to our new series "Meet Your New Best Friend," with the support of the animal lovers at K9 Scrub Club. It's a weekly chance for you to find your star-crossed furry friend and learn about different animal rescue agencies while you're at it.
This week, get to know the awesome Nine Lives Foundation, a no-kill shelter that aims to reduce the over-population of homeless cats in Northern California by providing low-cost spay/neuter services, vaccinations, health care and shelter for stray, feral, and at-risk cats. Today, we want you to meet a pair of kittens and a handsome year-old male cat. Read their backstories below and get in touch with Nine Lives Foundation by contacting Debbie at 650-670-7056 or visit their website ninelivesfoundation.org. Editor's note: Last week, Zoe was adopted from Saving Grace Rescue, thanks to this post!
You won't even turn on the TV with these two boy kittens around (first photo).  After a long day at work, what's better than coming home to these two purr machines? These brothers are about seven weeks old and looking for their forever home. (We only adopt little ones under six months in pairs) They, along with many other cats and kittens, are available at Nine Lives Foundation shelter in Redwood City.
This one-year-old handsome cat (second photo) was born around October 1st, 2011. He is a stunning grey and white medium hair male. He has the most amazing green eyes that will draw you in. Along with his good looks, he has an alluring personality to match. Outgoing, confident and affectionate,  he's the perfect addition to any family!
This post is sponsored by K9 Scrub Club, located in Noe Valley.  A premium dog wash & specialty store like no other!