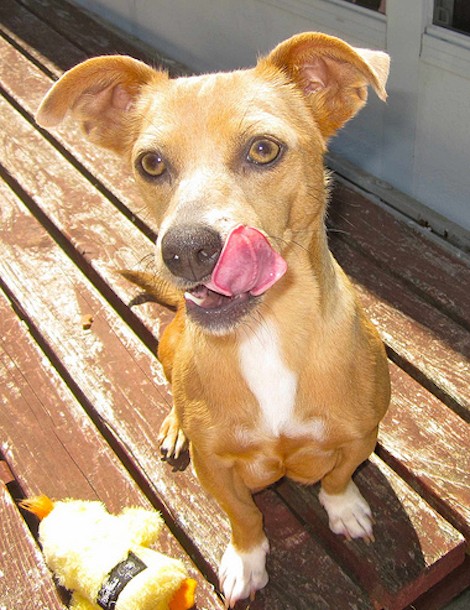 Anyone who reads 7x7.com on the regular knows how much we love animals. Welcome to our new series "Meet Your New Best Friend," with the support of the animal lovers at K9 Scrub Club. It's a weekly chance for you to find your star-crossed furry friend and learn about different animal rescue agencies while you're at it.
This week, we return to the awesome Wonder Dog Rescue.
Wonder Dog Rescue is a group of volunteers committed to rescue, rehabilitate and rehome dogs at risk of euthanasia because of shelter overcrowding, age, and special needs.
Meet Capri (top) and Gracie (bottom). Read their backstories below, and to get in touch with Wonder Dog Rescue, vist their website ASAP to adopt one or both of these delightful pups!
Capri is a "social butterfly" with a personality that anyone could fall in love with.. she is roughly two years old and being called a Staffie mix. Capri loves ALL people, children and other dogs. She is currently living with another Pitbull, a Shihtzu and a kitty - she does great with everyone. She has fabulous house manners, she is totally potty trained and 100% ok to be alone while her people are at work or out an about.
Gracie is such a stellar little dog! She has lots of good energy and would make a fabulous walking partner for one lucky family !! Gracie is roughly two years old and very unique looking, her body is long and low like a doxie but her face and ears are almost like a chihuahua, these photos do her NO justice, she is SO cute ... Gracie is great with other dogs, potty trained and ready to pack her bones and collar and head into her new home!!
This post is sponsored by K9 Scrub Club, located in Noe Valley.  A premium dog wash & specialty store like no other!