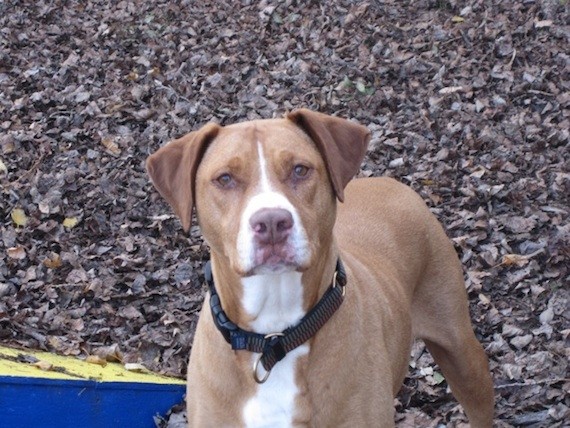 ---
Anyone who reads 7x7.com on the regular knows how much we love animals. Welcome to our new series "Meet Your New Best Friend," with the support of the animal lovers at K9 Scrub Club. It's a weekly chance for you to find your star-crossed furry friend and learn about different animal rescue agencies while you're at it.
This week, we're working with Rhodesian Ridgeback Rescue! Theydedicate their time to rescue Rhodesian Ridgebacks and find them forever homes. Meet little Coco (top) and Pumpkin (bottom). Read their backstories below and get in touch with Rhodesian Ridgeback Rescue by emailing laura@ridgeback.org or call 650-346-0442 ASAP to adopt one or both of these delightful pups!
COCO

Coco is a Boxer/Ridgeback mix who was abused by her owner. Her injuries have left her with a right foreleg that had multiple fractures and wounds and a right rear leg that has no feeling in it at all. Thus she walks and runs on three legs and sometimes falls over when her rear leg interferes with her gait. She hops right back up and continues as if it was the most normal thing in the world to fall over in the first place. Coco is the happiest dog and has the best temperament I have seen in many years. She is crate trained and walks well on a leash. She has not been allowed to play with other dogs, although she would love to do that. She should be in an only dog household due to her disability.
PUMPKIN

Pumpkin is a five to six year old mixed breed who spent more than a year in a local shelter. Everyone loved her, but no one adopted her. She went on daily walks with volunteers and did very well. She adapted to shelter life but her time eventually ran out and she was slated to be euthanized. We took her into our program and she has spent the past three months between two foster homes where she has done very well. She does well with other dogs, seems to ignore cats, LOVES carrying a tennis ball when she goes on walks, enjoys people and loves attention from everyone. She is gregarious and quite well trained. She is crate and house trained. Pumpkin was tested for thyroid issues and her levels are low. Thus, she needs to be on thyroid supplements for the rest of her life. This is an inexpensive daily medication. Pumpkin would do well in a family with older children as she can bowl little ones over just like any other big dog.
This post is sponsored by K9 Scrub Club, located in Noe Valley.  A premium dog wash & specialty store like no other!