There's really no arguing that Napa County does wine and does it well. The hardest part about getting a good glass of wine is often having to choose from the long list of choices. But tucked away on Spring Mountain above St. Helena, a winery is doing more than just make wine–they're carrying on a family tradition and gaining fans with every sip.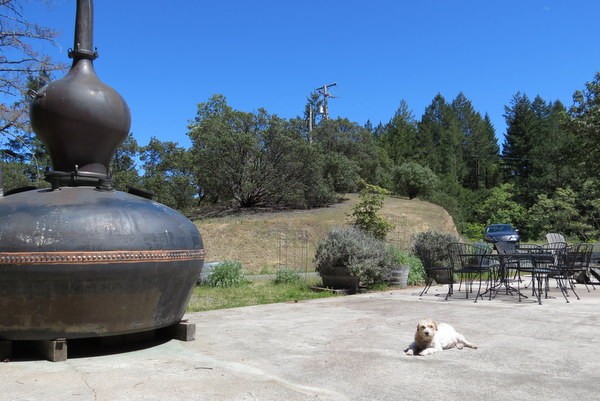 Charbay patio
You'll see what makes Charbay Distillery & Winery different from the rest when you pull into the parking lot. Sitting on the patio, among tables and chairs is a massive Copper Alambic Pot Still. (There might also be a couple of friendly dogs and a tricycle, but more on that later.) Along with making an impressive number of wines, Charbay has created a distinctive spirit collection including the likes of more than a half-dozen vodkas, rum, tequila, whiskey, brandy, ports, and aperitifs.
The Family Story
Charbay's founder, Yugoslavian-born Miles Karakasevic, is a 12th generation winemaker and Master Distiller. His son Marko became a Master Distiller in 2009 after finishing a 25-year classical apprenticeship. It's an artisan family tradition, with an attention to detail, quality, and an acknowledgment that good things often take time.
Miles lit the still for the very first run in 1983. Brandy is typically single distilled, but he double distilled a French Folle Blanche wine, then tucked it away in French oak and gave it 27 years to do its thing before bottling Charbay Brandy No. 83.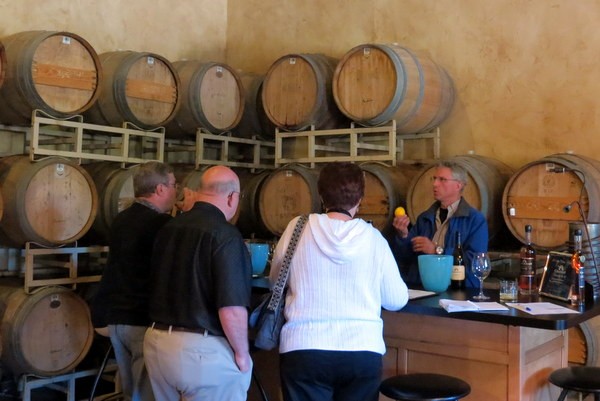 Charbay Tasting
Charbay is open to visitors everyday by appointment, which means groups are typically small. During a typical visit you'll see the still going and learn how it works. The $20 fee also includes a tasting of a few of their wines and some of their more unique creations like Green Tea Aperitif and Pomegranate Dessert Wine.
To make Green Tea Aperitif the father and son team extract the whole-leaf green teas at the distillery. The base is a white wine, but it's topped off with pot-distilled brandy. The Pomegranate Dessert Wine combines organically grown pomegranates and pot-distilled Pinot Noir Brandy that was aged in French oak. Taste it along with some of the locally made Anette's dark chocolate on the tasting bar for the full effect.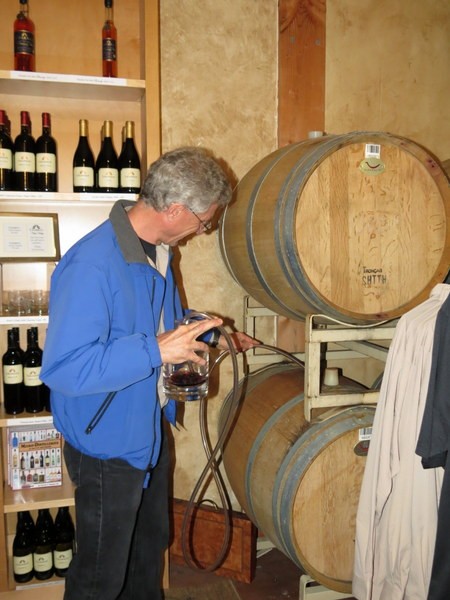 Tasting from the barrel
You may also get the chance to taste things straight from the barrel. The only downside? If it isn't in a bottle yet, you can't buy it.
You're going to want to taste everything, but the laws about spirits are very different than wine. California law prohibits Charbay from pouring spirits in their tasting room and selling spirits to folks in the state of California. Huh? Essentially that means you can't taste the hard stuff, and that you can't walk out of the tasting room with a bottle of vodka in your hand; they have to ship it to you or they'll help you find your closest retail store. They can sell Brandy, but can't pour it. Again, all because of California law.
Take advantage of the sunny patio and pack a picnic or snacks to have after your tasting. Be forewarned that you may gain a new best friend. Resident pooches Sniffy and Sunny like to greet guests, especially when there's food involved. And keep an eye out for that red tricycle. It belongs to Marko's young son Miles, a possible 14th generation winemaker and Master Distiller.
Dana can be found on Twitter @drebmann
Dana's tasting was complimentary, but as always her thoughts and opinions are her own.