Once best known for its main alleyways (Temescal Alley and Alley 49), this BART-adjacent Oakland district has become the de facto destination for cool duds, around-the-world dining, and boutique fitness classes.
Chances are that you're already familiar with the delights of Temescal Alley. But while you're making your way over for soft serve and handmade jewelry, don't neglect the other shops and restaurants making this North Oakland neighborhood such a charming locale. From vintage wares to Korean barbecue to stiff drinks, Temescal offers a little something for everyone.
---
Where to Shop and Get Styled in Temescal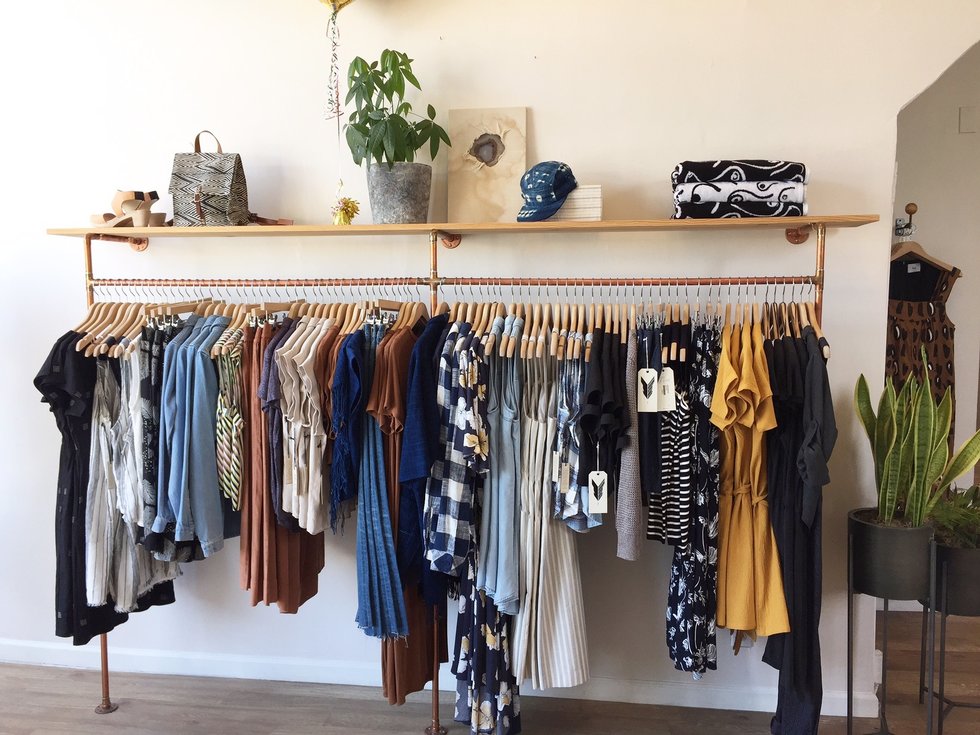 Dandelion Post specializes in well-made staples and eye-catching prints.
(Courtesy of Dandelion Post)
Clothing + Accessories

Full of independent designs for the modern Californian, Dandelion Post (423 Telegraph Ave.) features two rooms of clothing and accessories with an emphasis on textile work. Whether you're in need of a cutesy romper or another delicate gold ring, make Dandelion Post your new stop in Temescal for a touch of fun mixed with classic styles. // Owned and operated in Temescal by two local moms for more than a decade, colorful children's store Ruby's Garden (5026 Telegraph Ave.) specializes in baby and kids' clothing and shoes from indie artists, hosts monthly First Friday bunny parties, and buys back gently used clothing once your kiddos outgrow their old favorites. //You never know what treasures you'll uncover at Mind's Eye Vintage (484 49th St.), but without fail you'll be greeted with an enviable selection of excellent-quality vintage for men and women, which could include Pendleton flannels, polished-to-perfection wingtip creepers, or supersoft band tees. // If your typical farmers market tote is leaving you feeling "blah," Temescal Alley's Baggu (470G 49th St.) has the remedy, with the brand's signature cheerful nylon totes in punchy colors and adorable prints (oh hey, elephants and watermelons), plus canvas backpacks, leather and suede purses, and small pouches. // Chances are you've pined over minimalist modern staples from Ali Golden (482B 49th St.), and her Temescal Alley studio is where you can not only try on the raw silk jumpers and breezy tunics, but also find the odd experimental piece at a discount. // Standard and Strange (5010 Telegraph Ave.) highlights expertly crafted menswear and denim, with an extra emphasis on brands you'll have a hard time finding elsewhere in Northern California like The Real McCoy's, which reproduces classic vintage styles down to the buttons and tags. // Esqueleto (482A 49th St.) translates to "skeleton," but there's nothing bare bones about the jewelry, artwork, and other pieces Lauren Wolf crafts and showcases at her shop in Temescal Alley alongside works from other Oakland jewelers and artists. Wolf also regularly gives back to the community and supports local organizations such as Creative Growth and Memorial Sloan Kettering Institute, so you can feel extra good about each purchase. // Temescal Alley also houses boutique jewelry maker Marisa Mason (484D 49th St.), who you can often find in her studio crafting handmade earrings, bracelets, and necklaces with a bohemian feel. Each month the store welcomes a rotating designer, which means there's always a reason to pop in and checkout what's new. // Part retail shop, part work space, Claflin, Thayer, and Co. (470E 49th St.) is Temescal Alley's newest addition, specializing in leather jackets and bags made in shop, plus a smattering of gift items, cozy beanies, and skincare staples.
Home Goods + Small Delights
Fulfill your spirituality and alternative healing needs—or simply sniff your way through the walls of fragrant tinctures and dried botanicals and spices—at Temescal Alley's Homestead Apothecary (486 29th St.), where you can purchase everything from mushroom-infused coffee to natural deodorants to crystals. // Aside from an enviable selection of succulents and air plants, terrariums and planters, and delightful home goods like room sprays and candles, Crimson Horticultural Rarities (470 49th St.) also offers classes and teams up with local businesses for bouquet events throughout the year. // If you can dream it (or discard it), you'll probably find it at The East Bay Depot for Creative Reuse (4695 Telegraph Ave.), a nonprofit dedicated to diverting material from landfills by accepting a veritable hodgepodge of previously owned home decor, craft supplies, gently loved musical instruments, and general ephemera, which spans the spectrum from loose buttons to toilet paper rolls. // Manifesto Bicycles (421 40th St.) will set you up with a slick pair of wheels, repair whatever ails your Schwinn, and leave you with a smile, as the wall of patrons proudly mugging next to their bikes can attest. // If you're even thinking about embarking on a foray into urban homesteading—or maybe just canning your first jam—beeline to Preserved (5032 Telegraph Ave.), which not only sells mason jars, ceramic crocks, specialized utensils, and other well-curated accessories for crafting things like kombucha, kimchi, and kraut, but also leads numerous workshops and classes that'll help you perfect your sourdough or master a traditional miso. // Concept Forty-Seven (4727 Telegraph Ave.) showcases organic and eco-friendly beauty products—brands such as Among the Flowers and owner Stevonne Ratliff's own Beija Flor Naturals—alongside handmade geometric jewelry, prints from local artists, and leather bags from Ethiopia. // Questioning the meaning of life or your greater purpose? You just might find the answer at Sagrada (4926 Telegraph Ave.), which specializes in religious and spiritual wares such as singing bowls, altar adornments, prayer beads, and anything else you might need to connect to a higher power.
Stylish Salons
You'll often see the fellas line up outside Temescal Alley Barber Shop (470B 49th St.) well before opening to score a coveted walk-in appointment with one of the barbershop's expert stylists, who also offer beard trims and kids' cuts. // Hidden on the second floor of a historic building, Fig and Clover (4928 Telegraph Ave.) deals in body waxing, lash extensions, nails, and haircuts and color, but also knows the tricks to helping you score Instagram-worthy looks such as pastel locks, intricate nail art manis, or festival-ready temporary body art. // Bangs and Locks Salon (5095 Telegraph Ave.) uses Aveda products and focuses on naturally derived hair color, plus precise cuts that include a stress-relieving scalp massage boosted with aromatherapy. // Head to the Oakland location of Harper Paige Salon (5030 Telegraph Ave.) for stylists that can handle everything from thick and curly tresses to platinum blonde, or tame your frizz with a keratin smoothing treatment.
Click through for places to let loose and break a sweat.