No Plans Yet? Where to Eat Thanksgiving Out
One of the nicest things about booking a table for Thanksgiving: you can watch as much TV as you like the day of and avoid the crazy activity at stores and farmers' markets this week. With no set up or cleanup in sight, it's a chance to fully devote yourself to analyzing which dish tastes the best, although the stuffing vs. mashed potatoes debate may rage on through the ages. This restaurant round up promises intriguing menus and varying price points, to avoid getting in a pinch on Thursday.
Do book a table now, since reservations are required or strongly recommended. 
Brioche and challah stuffing and traditional turkey at Presidio Social Club 
Sides get dressy touches at the traditional turkey dinner ($55) with persimmons and pomegranates gussying up the kale salad; velvety butternut squash soup is drizzled with an herby sage pesto. One of the most exciting-sounding dishes acknowledges the once in a lifetime luck of having Hanukkah and Thanksgiving overlap on the same day: buttery brioche and challah are the base for the stuffing. Looking to celebrate the sea? Whole roasted Dungeness crab and oysters on the half shell are available for an added charge. 563 Ruger Street 
Roasted butternut squash with smoked ham hock, Diestel turkey at the Velvet Room at the Clift Hotel 
Chef Thomas Weibull is serving up a four-course menu ($75 adults, $25 children under 12) that skews towards the classics with some fun meaty touches: roasted butternut squash has smoked ham hock topped with ginger confit, roasted Diestel turkey gets added oomph via a turkey confit, and root vegetables are sauced via thyme jus. Sweet pumpkin tart is topped with spiced pecans and maple ice cream, and be sure to check out the room's hand blown Murano glass lamps. 495 Geary Street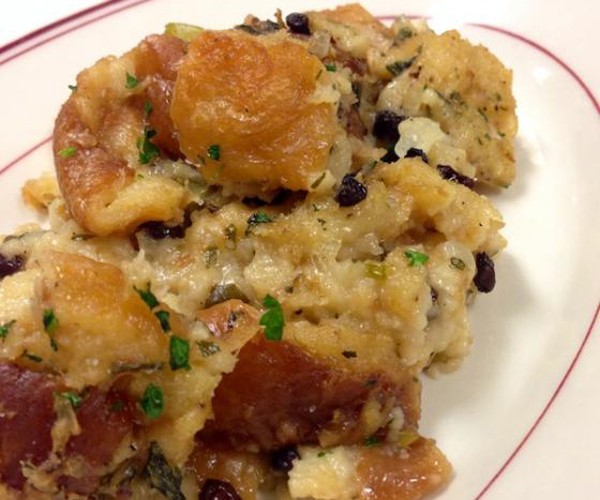 Brioche and challah stuffing at Presidio Social Club


Creamy oyster soup, roasted turkey and cranberry Sierra Beauty apple crisp at Fast Food Francais (F3) 
Over in Sausalito, a fab holiday value meal is priced at just $35 per person excluding tax & gratuity. Highlights with a certain French flair include a starter of creamy oyster soup with Applewood bacon and butter croutons followed by roasted turkey with French thyme jus lie and sweet onion panada (otherwise known as a sort of bread soup). It's always a challenge to save room for sweet treats, but the cranberry and Sierra Beauty apple crisp with Madagascar vanilla bean ice cream sounds like a worthy effort. 39 Caledonia Street, Sausalito
Willy Bird turkey and pumpkin risotto at One Market Restaurant
There's a reason why this Embarcadero restaurant is a popular mainstay: Chef Marc Dommen. This year, his three-course prix fixe menu ($64 adults, $29 for kids ages 4-12, kids under age 3 eat for free) means the Willy Bird turkey is roasted and given the cornbread stuffing treatment; a delectable sounding risotto includes shrimp, pumpkin seeds and pumpkin seed oil. One Market Street
Scotch eggs and heritage turkey with giblet gravy at The Cavalier
Chef Jennifer Puccio is rolling a three-course prix fixe holiday meal ($75, add $50 for wine pairings) that ably combines American and Brit influences: Duck Duck Scotch egg remains seasonal with arugula and stone fruit chutney; Brussels sprouts are minted; and the cranberries are in chutney form. For the mains, opt for heritage turkey with giblet gravy or go pescaterian via a Skuna Bay salmon with dilly hollandaise—hearty carnivores may take to the grass-fed beef rib eye with red wine marrow jus. 360 Jessie Street at 5th
Follow @mladdfood