The new bridal boutique at Nordstrom, dubbed the Wedding Suite, is all about style, value and meeting the needs of the entire wedding party. It's officially launching with an event tomorrow night from 6-8 p.m., and you are—as traditional invitations say—cordially invited to check it out yourself.
In the store-within-a-store, brides-to-be will find collections made exclusively for Nordstrom from such fashion heavyweights as Monique Lhuillier (wedding gowns), Trina Turk (bridesmaids' dresses) and Kate Spade (short, white "reception" dresses). There are also only-at-Nordstrom goods from Marchesa Notte, Tadashi, Sue Wong, Alexis Bittar and Stuart Weitzman (who has designed off-white platform heels with 'I Swoon' spelled out in crystals on the bottom of the sole near the instep).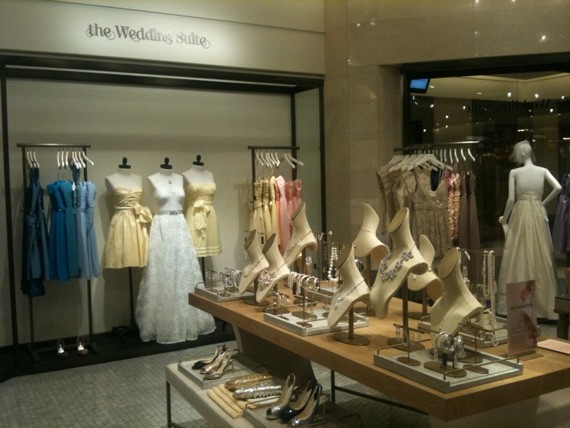 And, get this, the average price for a wedding gown is $700 (Tadashi's elegant dresses run about $798, but look much more expensive), with prices ranging from $178 (a sleek column gown with beaded straps from JS Boutique) to $2,000 (a pretty ruffled number from Milly).
Let's just say this: when Min Park, national wedding stylist director for Nordstrom, told me the price range, I asked her to repeat it a couple of times. There's a lot of look for the money here.
"You are not going to find the very traditional 'cupcake' gowns in the Wedding Suite," Park says. "We serve a modern bride who sees her wedding in a different way. The day is more about her then the dress."
Park says that the Wedding Suite differs from other bridal showrooms in that the pro stylists can assist with clothes and accessories for everyone at every stage of the event. "From the engagement photo, to the bridal shower, to the rehearsal dinner and wedding, we can outfit the bride, groom, mother-of-the-bride and bridesmaids by pulling from our entire store," says Park. "Our goal is to be with them through every step of this journey."
Tomorrow night, you can get an up close and personal look at the second floor boutique by RSVP-ing to 415-243-8500, ext. 1730.