The weather gods are giving us our karmic upside from Portland winter now, so it's always refreshing to escape to our coast for at least a long summer weekend.  Just because you're not in Portland doesn't mean you can't eat well. Here are some notables that most likely will enhance your coastal visit or give you more reasons to look forward to your next visit.
From North to South:
Ecola Seafoods, Cannon Beach --  Start with a crab and shrimp boat, and then order up any of your favorite fried seafood dishes.  While many locals swear by the razor clams, you can't go wrong with the Captain's Platter:  Cod, Salmon, giant shrimp, and local Netarts Bay oysters.  Oh my.  Order the lunch size for one, or the dinner size for two.  Then head two blocks due west and walk it off during a beach walk to Haystack Rock.
Wanda's, Nehalem -- There's usually a line here, and it's no wonder why. The homemade pastries and rich coffee will warm you up from a brisk hike at either Neahkanie Mountain or along the beach in Manzanita, one of the most glorious gifts from nature anywhere (shhh). Wanda's huevos rancheros might just be the best in Oregon.   Come later and warm up year-round with any of their homemade soups.  I tried the BLT -- everything you think of when you think of the bounty of Oregon food.  Delicious, seemingly homemade wheat toast with rich red tomatoes, large chunks of avocado, romaine, and thick peppery bacon.  Help me Wanda.  Get there early.
The Schooner, Netarts Bay -- In the heart of Oregon oyster territory is a gem--recently remodeled to include one of the nicest places to dine al fresco on the coast overlooking the bay.  Order oysters lots of ways--I recommend the Netarts Bay Salad.  Local greens, hazelnuts, cherries, bleu cheese, and if that's not enough locally sourced Oregon deliciousness for you, throw on some locally harvested Netarts Bay oysters to send you into seafood heaven.
Photo courtesy of TripAdvisor.
The Beach Dog Cafe, Lincoln City -- Recently moved to larger more modern quarters to accommodate more guests, that didn't seem to matter.  The lines here can get long if you don't come early.   Photos of dogs enjoying the local beaches adorn the walls.  You'll be just as happy as they appear poking your fork into Kristina's Stuffed French Toast.  It's stuffed with homemade cream cheese (should it be anything else in Oregon?), sprinkled with sugary goodness and served with berries and berry compote.  Order it with thick-cut, perfectly cooked bacon--and howl at or like a Beach Dog. Local Ocean Seafoods, Newport -- Here's where seafood is sourced from directly across the street in beautiful Newport Bay.   You can buy fresh seafood from their case, or even better, have them prepare it for you.  My faves are the Ling cod fish and chips (perhaps the best fish and chips I've ever had), the Tuna Mignon, a huge chunk of fresh grilled albacore (served as rare as you like it), over soy noodles with grilled vegetables.  Or you must try the Fishwives Stew, a bounty of Pacific seafood, caught fresh and wonderfully prepared in a herby tomato broth, with garlic in the broth and on the toasty bread you'll use to sop up every drop.  It's seriously even worth a day-trip from Portland to Newport.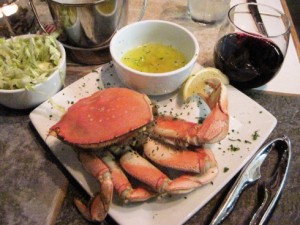 Photo courtesy of Laurel's Compass.
Restaurant Beck, Depoe Bay -- RB just may be the best restaurant experience in Oregon.   Chef Justin Wills is a master of flavors and textures and all things good, and you most certainly will taste things you never have before--all while enjoying one of the best coastal views from a restaurant anywhere.  The pork belly is the signature dish.    Not only was it cooked so perfectly I sliced off small bites to savor along the way, my newly discovered love for thinly sliced radishes took on an entirely new bent. The mustard (subtle) ice cream was the perfect complement. The waiter told me the sea beans were sourced at Siletz Bay, just up the pike, and they would have a salty sea bite to them, and that's just what they had.  It just got better.  I'm not going to spoil it for you.
By Chris Angelus Chris Angelus runs Portland Food Adventures, incredible chef-based experiences featuring interactive dinners with Portland's most celebrated chefs, replete with tips and certificates to the places the chefs love to go.