To help us enjoy the transition from summer cookouts through Oktoberfest and beyond, Almanac Beer Co. will host an event called NotOberfest on the evening of Friday September 20 at St. Gregory's Church in Potrero Hill. This charity event features a mix of seasonal craft beers that span this summer's wet hopped ales, upcoming Oktoberfest lagers, and the first taste of fall's pumpkin and other harvest-style brews.
While you are knocking back a few cold ones, watch Ryan Farr and the other good people from 4505 Meats slicing their way through the delicious juiciness they've brought for you to feast on. And after you've slaked your thirst and satiated your hunger, Jake Godby and his ingenious crew from Humphry Slocombe Ice Cream will be on hand to provide you with your just deserts.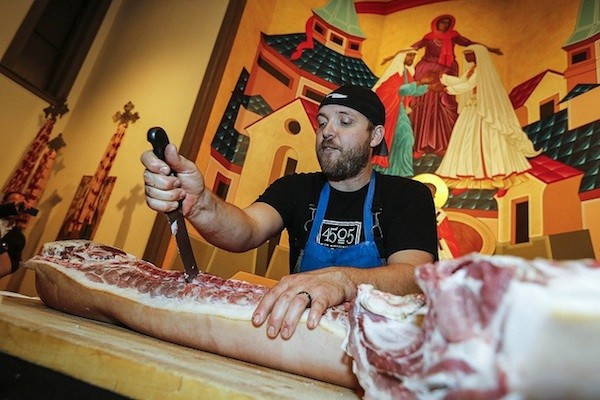 Ryan Farr of 4505 Meats
Almanac co-founder Jesse Friedman noted that, "Last time (2009) NotOberfest was a Beer & Nosh party, but Damian, who I had just met through a homebrew club created the poster. It was the first collaboration we did and eventually lead to Almanac."
Jesse added, "We pride ourselves on putting out the kind of event we'd want to attend. Expect little to no wait for food or drink, lots of space and Ryan Farr to take his shirt off (ok, maybe that last part isn't true)."
Almanac will pour all three of their new Fresh Hop IPAs, each highlighting a single hop varietal from Hops-Meister in Clearlake, CA. The Chinook is earthy; the Cascade is citrusy and bright, and the Cluster is spicy with a black tea character. Almanac will also be pouring their Heirloom Pumpkin Barleywine, aged in used brandy barrels. Other breweries will be bringing seasonals as well, such as The Bruery's Autumn Maple and Firestone Walker's Oaktoberfest.
All ticket proceeds benefit The Food Pantry, whose mission is to increase access to food for hungry people, and empower them to help each other. 
Participating breweries include:
21st Amendment
Ale Industries
Almanac Beer Co.
Anchor Brewing
Baeltane Brewing
Firestone Walker
Half Moon Bay
Headlands Brewing
HenHouse Brewing
Highwater Brewing
Magnolia Pub & Brewery
Speakeasy Ales & Lagers
The Bruery
Details:
Where: Saint Gregory of Nyssa Episcopal Church; 500 De Haro St., between Mariposa and 18th.
When: Friday, September 20th; doors open at 6:30, close at 9:30 pm
How much: $60 ticket includes all beer and food. Note that tickets to this event are limited so grab them here now: http://notoberfest.eventbrite.com/
Who: 21 and over only
And speaking of beer events that will sell out, you can still buy tickets for Brews on the Bay. This San Francisco Brewers Guild event takes place aboard the historic S.S. Jeremiah O'Brien at Pier 45, on Saturday, October 19th, from 12-5 pm. Enjoy over 50 local craft beers while taking in the salty air, sunshine, live music, food, and spectacular views of the bay. Tickets available here.