By
While seemingly out of the way for Oakland residents who spend their time drinking greyhounds in Uptown or making laps around Lake Merritt, a newly revamped Jack London Square is brimming with ways to spend a delightful weekend on the water. From a morning spent kayaking in the harbor, to fresh oysters for lunch, to a glass of wine and a movie overlooking the bay, Jack London Square is the closest you can get to a beachy vacation within walking distance of a BART station.
STAY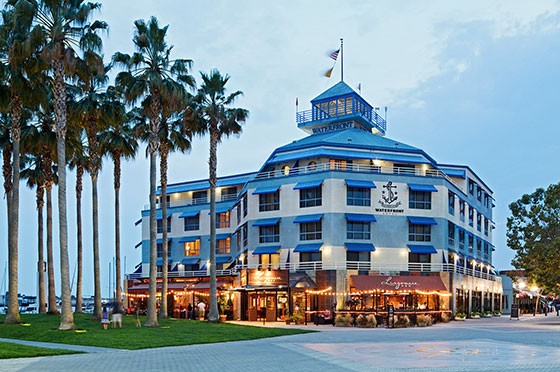 A cozy Joie de Vivre property, the Waterfront Hotel is one of only a few lodging options in the square. And while the vibe can seem a little dated (the striped hallway wallpaper reminds you of corduroy bellbottoms), you really can't ask for a better location or a better view as you gaze out over the water from your balcony. What the hotel lacks in luxury and modern amenities (there was no fridge in our room), it makes up for in charm, quirky cute oar-themed wallpaper, an all-you-can-drink wine and cheese happy hour, and a welcoming dog policy. Don't forget your bathing suit! // 10 Washington Street, Oakland, jdvhotels.com

EAT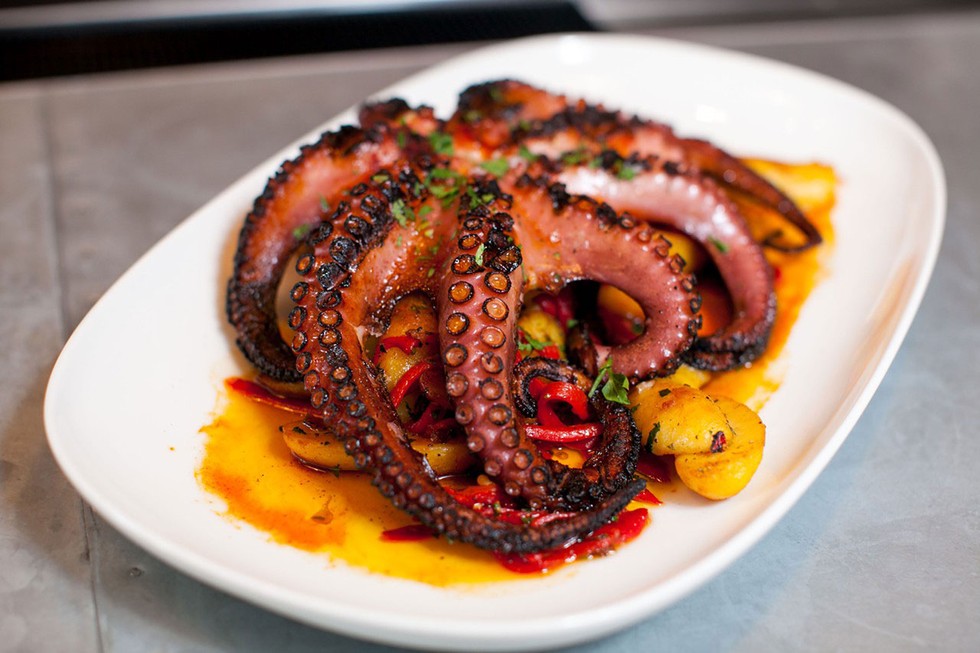 Jack's Oyster Bar + Fish House
After a long morning spent kayaking through the harbor, or canoeing your way into the bay, the only lunch option worth considering is the light and fresh fare being served at Jack's Oyster Bar and Fish House. When you walk into the bright establishment, an impressive raw bar displays traditional offerings such as shrimp, oysters, and lobsters, while the menu features East Coast staples such as seafood buckets, chowders, and more. We recommend the scallop bisque, and lobster roll enjoyed from the patio, where you have an excellent view of the boats bobbing in the harbor. When it's time for dessert, you can't go wrong with light and refreshing soft server topped with corn flakes. Just like mom used to make. // 336 Water St, Oakland, jacksoakland.com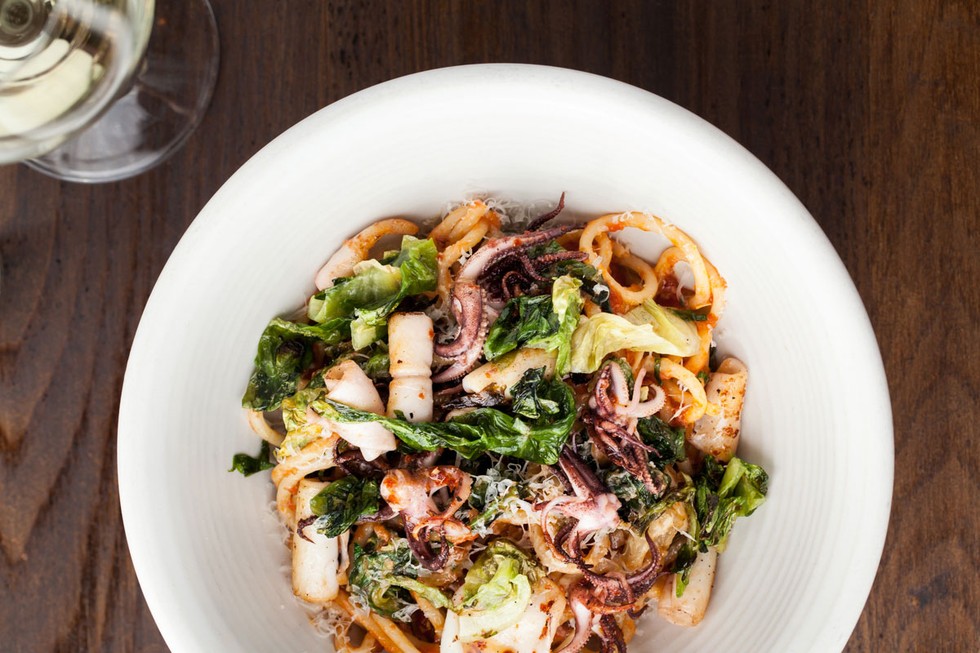 Despite converting to a seasonal prix-fixe-only menu earlier this year, the dishes at Haven have only gotten better. And that's saying something. At an affordable $49 per person, Haven will treat you to one of the best dinners of your life. Opt for the outdoor patio and don't forget to request the avocado toast with pickled sardine to start. Number 60 on The Big Eat Oakland, it's one of the best appetizers you'll find in the area. // 44 Webster St, Oakland, havenoakland.com
DRINK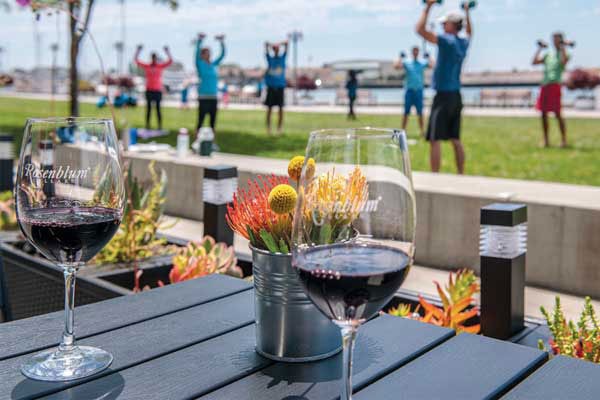 Fancy a glass of rose by the water? Or a zinfandel after a long commute? While tucked behind the main thoroughfare, Rosenblum Cellars is a sophisticated and inviting urban wine bar with excellent varietals by the glass and tasty picnic options to take the party outdoors. Want to bring the wine party home with you? Taste your way through California by joining the Rosenblum wine club: four different club options ensures there's something suitable for your price range and palate. // 10 Clay St, Oakland, rosenblumcellars.com
Overland Country Bar & Restaurant
A country bar in Oakland? We kid you not. Overland opened their doors earlier this summer offering traditional cowboy fare, a full bar, and line dancing on Thursday nights. Easily one of the most unpretentious bars you'll find in the Town, this neighborhood joint is usually filled with TV-less football lovers in search of the game. And while they're officially a Packers bar, you can still find the Raiders, Niners, and the rest of the franchises on one of their many screens throughout the space. Don't forget to stay for Sunday night trivia after the game! // 101 Broadway, Oakland, overlandoakland.com
Heinold's First and Last Chance Saloon
Looking for a dive bar with history? You won't find anything better than Heinold's First and Last Chance Saloon. Opened way back in 1883, Jack London himself would often hang out here, and is said to have written most of "The Call of the Wild" from its barstools. Originally built from the remains of a whaling vessel, the bar is housed in a shack smack dab in the middle of the square with uneven floors, decades-old dollar bills pinned to the walls, and more than enough character to last another couple of centuries. // 48 Webster St, Oakland, heinolds.com
PLAY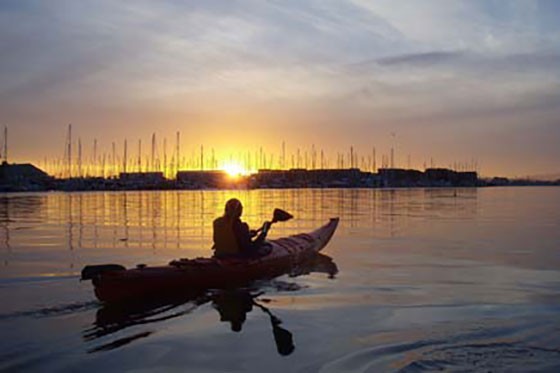 While you can always make your way to the adult-size playland that is Plank, we like our staycations to run at a slower pace. Hence why we woke up early to try stand up paddle boarding on the harbor. For those of you who have never done SUP before, it's way more simple than it looks, and no one in my beginner class fell trying to stand on the long board (though, there were more than a couple splashes later in the lesson after attempting a rather challenging stroke or turn). The knowledgeable instructors at California Canoe and Kayak how how to keep things interesting and after only an hour of practice, we escaped the harbor and were able to paddle miles down the coast, while stopping to play fun games and learn new tricks along the way. Not into SUP? They also have kayaks, canoes, and more. // 409 Water St, Oakland, calkayak.com
Bay Area Bikes
Prefer to keep your toes dry and on solid ground? Rent a cruiser from Bay Area Bikes and spend an afternoon speeding along the waterfront. Consider this your crash course to everything the square has to offer as you meander from the tasty confections at Miette Bakery to Jack London's "cabin," which was dismantled, and dragged out of the Alaskan wilderness to its final resting place in Jack London Square. // 427 Water Street, Oakland, bayareabikes.com
DON'T MISS A BAY AREA BEAT! SUBSCRIBE TO OUR NEWSLETTER.