By
Holiday season is always a hectic time, but this year feels especially frantic, with San Franciscans seeming even more in need of a little reminder of what this time of year is really about: sweet dreams of miniature edible housing projects.

Once again, the historic Palace Hotel is presenting a landscape of calming and delightful architectural wonders made from that most underrated of building materials—gingerbread! Pop into the Palace's gorgeous lobby to marvel at 11 fantastical designs from local businesses and celebrities—including your friends here at 7x7!—each of whom worked with a Palace culinary expert. You're invited to vote on your favorite pieces and to make donations to the designers' selected nonprofit organizations.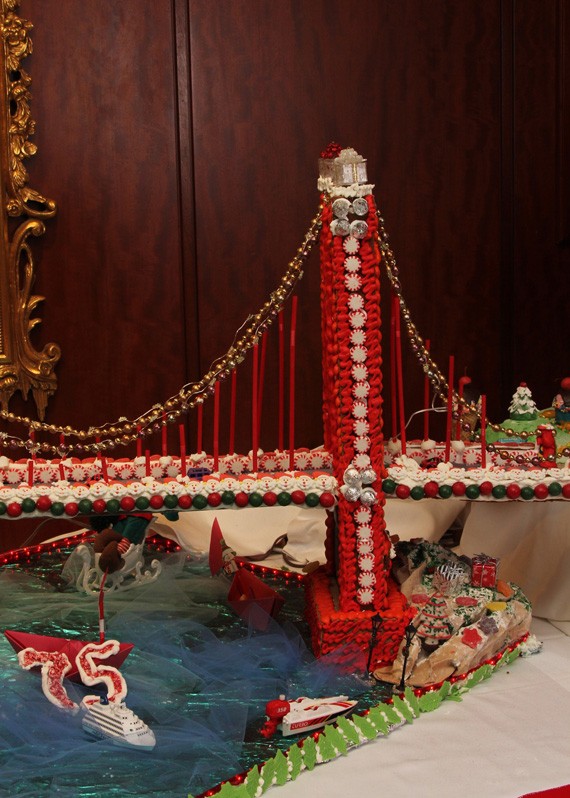 First, second and third place prizes will be awarded based on your votes. The Palace Hotel will give $2000 for first place, $1000 for second place and $500 for third place. All monies raised, plus the cash donation from the Palace Hotel, will benefit the winners' selected charities.

So don't forget to make time for the Palace to celebrate the true spirit of the holidays, and to help raise money for some of San Francisco's very worthy organizations!

On display in the Palace Hotel lobby through December 31, 2011. 2 New Montgomery St., sfpalace.com
 Entries include:
"Happy Anniversary Golden Gate Bridge" Created by the team at 7x7 to benefit SFCVB Foundation
"America's Cup" Created by Carl Nolte, Reporter, San Francisco Chronicle to benefit the National Liberty Ship Memorial
"Elvis' Hound Dog Holidays" Created by Jan Wahl, KRON 4 and KCBS Radio to benefit Pets Unlimited and PAWS
"Farmers Market" Created by Lisa Quinn, Author and Television Host ABC 7 and Live Well Network to benefit City Slicker Farm
"From Cellar to Sleigh" Created by Narsai David, Food & Wine Editor KCBS Radio to benefit the Assyrian Aid Society
"The Gift of Music" Created by the team at KBLX Radio 102.9 to benefit Adventures in Music
"GUMP'S 150th Anniversary" Created by the team at GUMP'S to benefit Meals on Wheels
"Hansel & Gretel" Created by Liam Mayclem & Thuy Vu, Hosts of Eye on the Bay, KPIX 5 to benefit Raphael House San Francisco
"I Left My Heart in San Francisco" Created by Erin Roth, Editor Where Magazine to benefit Meals on Wheels
"Occupy North Pole" Created by Tori Campbell, News Anchor, KTVU 2 to benefit the Monument Crisis Center
"The Painted Ladies" Created by Marla Tellez, News Anchor NBC Bay Area to benefit Hispanic Foundation of Silicon Valley
DON'T MISS A BAY AREA BEAT! SUBSCRIBE TO OUR NEWSLETTER.