If it weren't for his TiVo and persistence, Ali Grosslight (our associate publisher) might not have married Adam Chetkowski. Ali met Adam eight years ago at a party. In truth, she noticed someone else first, but it was Adam who called her the next day. She didn't bother to call him back. He called again and asked her to dinner, first letting her know he wasn't the kind of guy to dial twice. She said she was busy. When he pressed the issue, she admitted she didn't want to miss the series finale of Sex & The City. "That's OK," he said. "I have TiVo!"

They went to dinner on Polk Street and then back to his place to watch Carrie, Samantha, Charlotte, and Miranda wrap it up. As the end credits rolled, Ali was in tears. When Adam asked: "Should we watch it again?" Ali knew he was special. "A man who would watch the Sex & The City finale two times in a row? I knew there was something there," she says.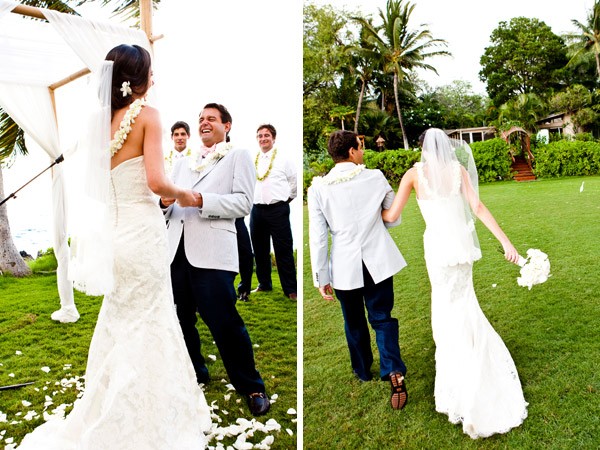 Eight years later, he asked her to marry him—and this time he only had to ask once before she said "yes."
The couple decided to marry on Maui, the site of some of their best vacations, in a Fourth of July weekend event that had a loose ocean theme and a tweak on a patriotic color palette.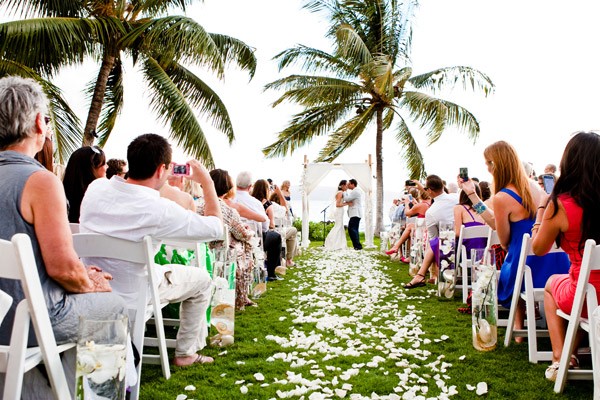 "Travel has been a constant theme in our relationship," she says. "And a destination wedding means you can't be there to oversee and control everything, which in my case, was a good thing."
The weekend event began with a welcome party at Mala's at the Wailea Marriott. Guests were greeted by a large cardboard cutout of Jack, the couple's dog. "Jack is my four-year-old Labradoodle, he was a Christmas present from Adam," says Ali. "He would have been quarantined if we flew him to Maui, so I got a cutout and brought it everywhere. It was a hit at the parties."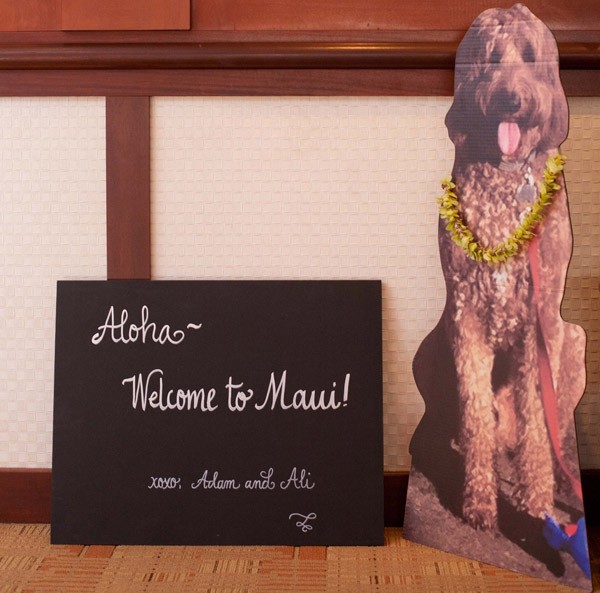 But the faux dog wasn't the only surprise guest. "Clint Eastwood and his daughters were dining there that night," says Ali. "And my mom talked him into to coming to our party. While his girls danced, he graciously posed for pictures."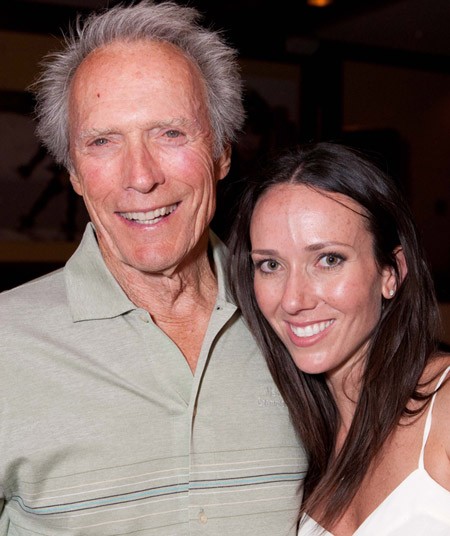 The ceremony took place at the Sugarman Estate, an old homestead on West Maui with stunning ocean views. "There are so many weddings on Maui, and many of them take place at the same locations," says Ali. "We wanted something different and more interesting. The difficulty with a place like the Sugarman Estate, as opposed to a hotel, is that you have to bring in everything—like tables, tents, and linens—to the site."
With the help of island planners, the grounds of the estate were turned into an elegant wedding venue decorated in white, blue, and pink ("A bit of a twist to red, white, and blue," says Ali). Hawaiian and ocean references were throughout: the couple had a lei exchange, shell and flower filled cylinders lined the aisle, and the menu included locally caught fish and regional produce. "The first piece of jewelry Adam gave me was a starfish pendant from Tiffany, so starfish are special to me," says Ali. "My brother gave me a starfish pin—my something new—that I used to secure my grandmother's embroidered handkerchief around my bouquet."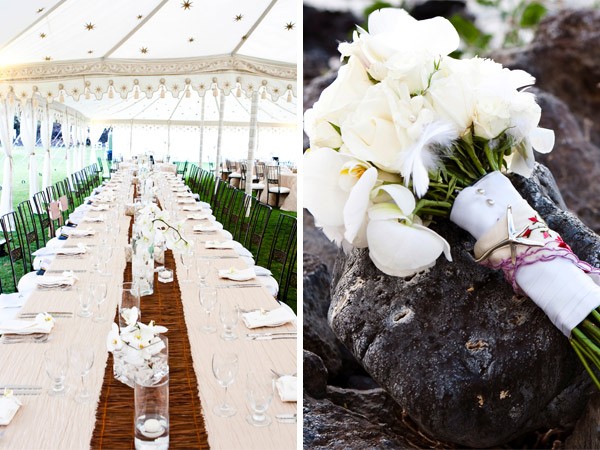 The vows, conducted by Reverand Alapaki, a man Ali dubs "Mr. Hawaii," were filled with laughter. "It was a sweet and not terribly serious ceremony," she says. "That's not us. We are more light-hearted and loving."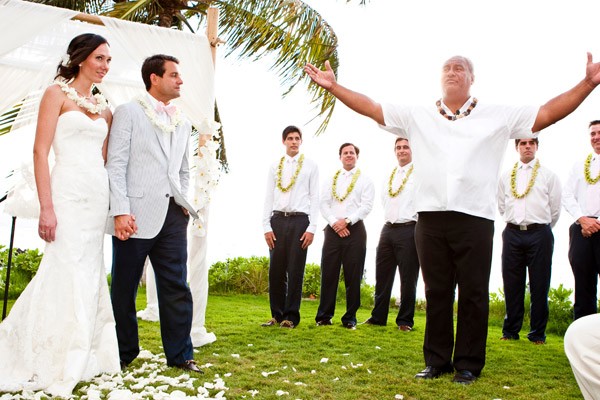 That sense of humor served the couple well when, after the service, Ali pulled her mother aside to thank her and drink in the scenery. "We were admiring it when I noticed a huge cockroach crawling between the lace and the fabric on my dress," says Ali. "It was disgusting. I was threatening to take my dress off and my mother was ordering me to keep it on. Luckily, my brother-in-law Alex was able to pull it out and saved the day."
After a meal under embroidered and tasseled tents, the party continued at Spago's at the Four Seasons Wailea. "The Sugarman Estate won't allow late events," says Ali. "If you knew my husband, you'd know that going to bed early was not an option. We wanted to keep dancing."
There were no more celebrities or cockroaches then—just joyful celebration.
Welcome party: Mala's at the Wailea Marriott 
Ceremony site: Sugarman Estate 
Reception site: Sugarman Estate 
After-party site: Spago at the Four Seasons Wailea 
Event planning: Island Partners of Hawaii 
Catering: Beverly Gannon (Celebrations) 
Cake: Maui Wedding Cakes 
Flowers: Island Partners of Hawaii 
Stationery: Laura Hooper 
Photography: Aubrie Pick Photography 
Gown: Modern Trousseau 
Lighting: Aloha Event Lighting 
Rentals: Pacific Isle Rentals 
Linens and tents: Pacific Event Group