Wine Country's a big place. You can't do it all in one day and remain standing. But a simple plan of attack can help guarantee a great day of tasting and maybe even a few new favorite bottles to bring home. A good place to start is Sonoma County's Alexander Valley.
Getting There
About an hour north of San Francisco, the Alexander Valley is located in the northern corner of Sonoma County. Just cross the Golden Gate Bridge and it's a straight shot north on Highway 101, north of Healdsburg. The Valley is best known for Cabernet Sauvignon, but it's also home to Chardonnay, Sauvignon Blanc, Merlot and numerous other varieties.  Here's a few wineries worth stopping for.
Simi Winery
Two miles north of Healdsburg Plaza, Simi Winery has been making wine in the same stone cellar in Healdsburg since 1890. There are picnic tables available and the tasting room opens to a nice terrace. If you time it right you can tour the stone cellar, redwood grove and gardens, then taste. The tour's offered daily at 11 a.m. and 2 p.m. $10 per person.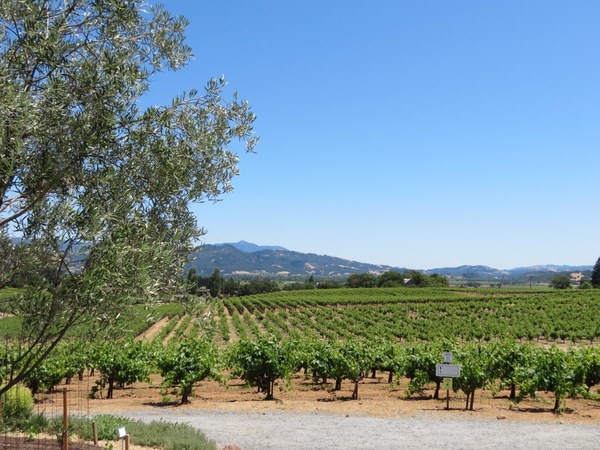 Deck view from Francis Ford Coppola
Francis Ford Coppola
You could easily spend all day at Francis Ford Coppola Winery in Geyserville. The winery has two swimming pools and four regulation size bocce courts, along with game tables for classic card and board games like backgammon, chess and checkers. Hollywood fans will enjoy Coppola's Movie Gallery. Highlights include the original shiny red car from Tucker: The Man and His Dream, Don Corleone's desk from The Godfather and countless Academy Awards. Oh yeah, and there's wine too. Complimentary Rosso & Bianco table wine tasting, $15 Neighbors Tasting features four Sonoma County wines.
Clos Du Bois
Another great location for a picnic is Clos Du Bois, offering plenty of tables with vineyards views. Bring your own goodies or purchase snacks in the tasting room. The four acres of solar panels are worth a mention, generating an estimated 85% of the winery's power. Premier Wine Tasting is $10 per person.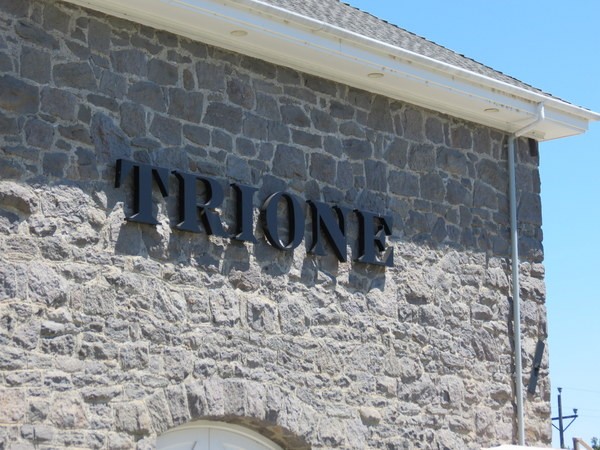 Restored the Old Stone Building at Trione Vineyards & Winery

Trione Vineyards & Winery
A family affair,Trione Vineyards & Winery is located next to a 1908 landmark stone building at the Home Ranch in Alexander Valley. Bocce ball courts are under construction and should be finished before summer's end. Dogs are welcome in the tasting room which is open Thursday through Monday in the summer. All visitors get a complimentary taste of Trione's Sauvignon Blanc. Tasting flights range from $5 to $15.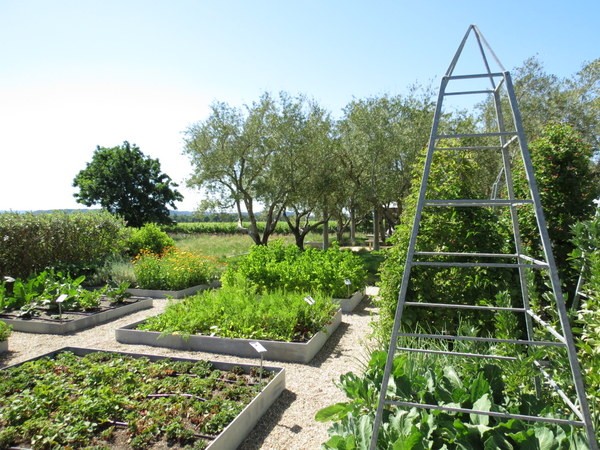 Edible Garden at Medlock Ames
You can't help but wander through the edible garden before going inside the Medlock Ames tasting room. It's impressive, but so is what's waiting inside the century-old former Alexander Valley Store & Bar. Taste four current release wines in the airy tasting room for $10.
Dana can be found on Twitter @drebmann