Originally published on CaliforniaHomeDesign.com
Where: 50 Arlington Avenue, Kensington
When: Sunday, September 22 from 2:00 p.m. to 4:30 p.m.
What: A 1948 house probably designed by Kensington architect/developer Miller White– who did a number of spec houses in the neighborhood and also lived across the street– in a style that hits somewhere between a California ranch house and the early houses of William Wurster. Late this past summer, Bee Renovated's designer Sean Gaston directed a no-surface-left-untouched renovation executed by contractor Jim Jewell, and we're loving the result. The 4-bed, 3-bath house came on the market this week,asking $1.198M. 
The rear yard also serves as a driveway, but Gaston had the asphalt and concrete pulled up and replaced with an overscaled concrete slab grid and new lawn. The fourth bedroom and the family/media room flank the garage.
The stacked stone fireplace is a Miller White trademark; the tongue-and-groove planked ceiling and overscaled sash windows are straight from the William Wurster playbook: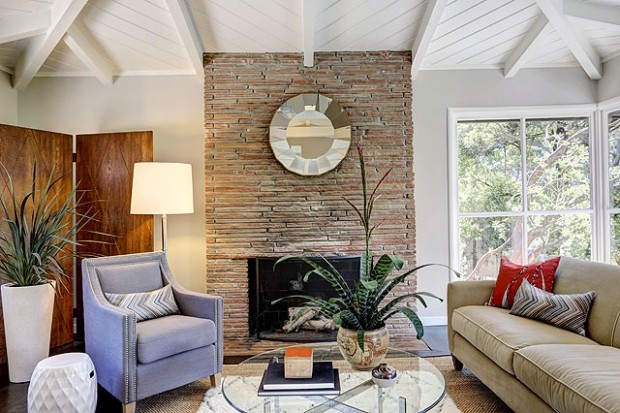 Click here to get all the details and see more photos of this gorgeous house!