She laughs a lot, he smiles occasionally; she is a fun-loving social butterfly, he's a homebody; she sips wine, he drinks beer; but, despite their differences, they came together down the aisle last weekend. She (Jennifer Patterson) married him (David Duffield) overlooking the stunning Placerville landscape at the Lava Cap Winery.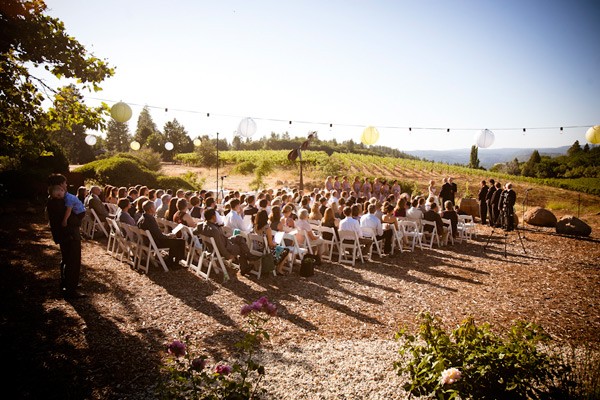 Jennifer likes to say they met the old-fashioned way: at a bar. It happened four years ago at Trad'R Sam's on Geary Street. "I went there with a friend," she says. "It was the last place I expected to meet someone." But when the inebriated, tough-looking bald guy (her words) on the next barstool started chatting with her and said she had beautiful eyes, she took notice. She gave him her phone number, but figured he'd lose it. She was wrong.

Three years later, as Jennifer and David strolled along Baker Beach idly picking up sea glass and rocks, he said: "Hey, I found a cool rock! Want to see it?" It was a diamond ring in a black box, and she did want to see it—on her finger.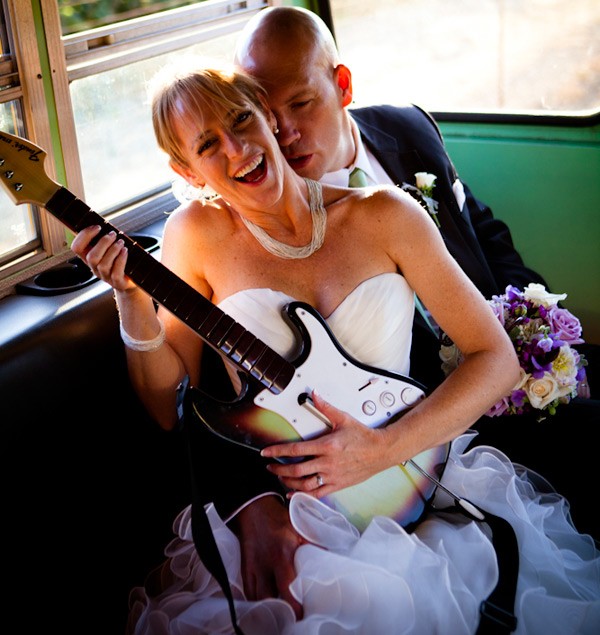 They sealed the deal Saturday at the winery where her father works. Guests were present in body and in spirit. "I didn't know this until my wedding shower, but my grandfather, Howard Vogel, wrote a poem for me when I was just 12. He gave it and a rosary to my mother, asking that the poem be read during my wedding and that I carry the wooden beads down the aisle," says Jennifer. "He died two years later."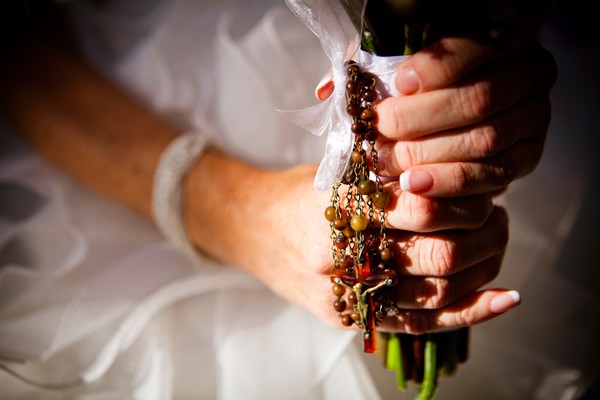 The vows were light-hearted, with Jennifer promising not to drag David to every social event and David agreeing to attend the occasional party.

After the ceremony, the cocktail hour featured wine and four homebrews her brother created, including 'Til Death Do Us Part Double IPA and Kiss the Bride Kolsch. When the dinner—serving elegant dishes such as pork loin and brie-stuffed chicken along with crowd pleasers such mac-and-cheese (Jennifer's fave)—was cleared, the couple was surprised when three male friends rushed on the dance floor wearing pink taffeta dresses and feather boas and started singing. The stunt fulfilled a promise made long ago by Jennifer's best friend, Scott Burke. "At his wedding, I stood with the groomsmen and wore a tux. I said he had to wear a pink taffeta dress at my wedding, and he agreed," said Jennifer. "He died before my wedding day, but our friends and his wife surprised us with this funny performance. It was great, because I felt like he was there."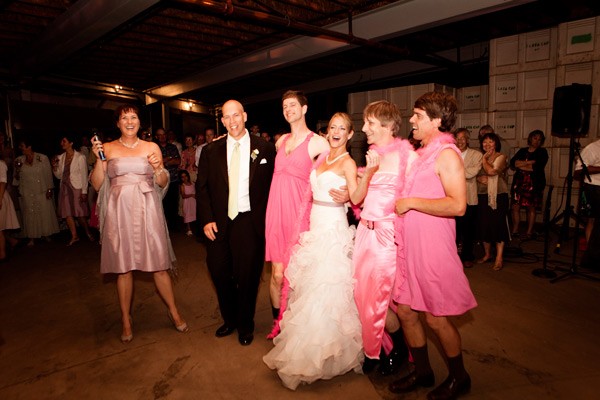 The shared love of family and friends is just one thing that makes these very different people click. "It's true that in many areas we are opposites, but it works because we have the same values," she says.

Ceremony and reception site: Lava Cap Winery, Placerville

Dress: San Patrick, Novella Bridal

Catering: Gaston Catering, Folsom

Flowers: Natural Flair Floral Design, Cameron Park

Printed materials: Sweet Penelope

Photo Booth: Picture Perfect Photo Booths

Lighting: Sacramento Theatrical Lighting

Bride's Hair: Faith Duckett

Bride's Make-Up: Lisa Schwartz

Photography: Mona T. Brooks | Life by Mona

DJ: DJ JoJo

Bridal Party Transportation: Foothill Area Rapid Transit (FART)